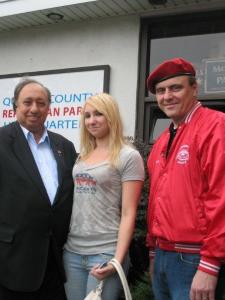 Here's a little more about mayoral candidate John Catsimatidis' financial maneuvering.
He spent $6,171.45 on "TV commercials," plus $29,800 with McLaughlin & Associates on what is listed as a "background check."
When reached on his cell phone, Catsimatidis said the TV commercials were "samples." He then referred questions about that and the background check to his spokesman Rob Ryan.
Ryan said he was not aware of the background check, and said McLaughlin & Associates "are our pollsters."
As for the commercials, Ryan said they're still considering whom to hire, but received samples from Jamestown Associates[link fixed] and The Victory Group – who, Ryan said, count Rudy Giuliani as a former client. Ryan said another media consultant, Chris Mottola, is also being considered.