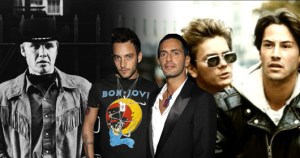 On a recent Wednesday evening, Robert was with a client in Greenwich Village. It was a first-timer who'd called him a few days earlier to arrange a meeting at a bar on 9th Street so they could speak face-to-face before closing the deal he'd proposed earlier.
When Robert arrived, the man, in his mid-60s and, Robert said, "handsome and fit for his age," was sipping a martini; Robert ordered a glass of pinot noir. After their drinks were done, he went back to the guy's apartment, had sex with him and became $360 richer.
"I like it when clients ask me to meet them out somewhere first," said Robert the following night, when he stopped for coffee at a Bedford Avenue cafe en route to some art openings on the Lower East Side. (He agreed to speak with The Observer on the condition we'd use a pseudonym.) He was wearing tight Uniqlo jeans tucked into Army-issue boots and a vintage plaid button-down fastened to his chest by skinny Marc Jacobs suspenders. "It gives me a chance to be charming," he continued. "Build up their desire. Get them to want me."
Robert sounded like a professional letting you in on a bit of strategy. Still, he doesn't seem like what they call a "pro" on Law & Order. At least if you saw him on the street, you'd probably think he looked like any other hip 23-year-old who moved to Williamsburg because it was cooler than whatever suburb had spawned him. But he is—to use an old British expression that's currently the preferred terminology for some men who work this job—a rent boy, selling his companionship, sexual or otherwise, for a hefty hourly fee. He's been escorting more or less full time for about half a year now, making as much as $3,000 a week. Before that he worked in an Apple Store for around $15 an hour.
"I never thought I'd be doing this," he said, "but it just sort of worked out that it's actually a lot of fun!"
It's one of the oldest stories in this city, of course. For many of us in post-Ashley Dupre New York, the word "escort" conjures images of decadent trysts between beautiful women and influential politicians or other members of high society.
Much quieter, and a much smaller sector of the prostitution economy, are the men who fill the same role: charging high rates (though usually not as high as Ms. Dupre) to meet with rich clients, without having to work the streets.
In the minds of many in New York, anonymous (or, in this case, pseudonymous) gay sex in New York hasn't  grown up from its 1970's roots. Enabled by Craigslist and the back pages of The Village Voice, it perhaps no longer has to involve dour, methed up looking kids strolling the western reaches of the meatpacking district. But there is a distinct aura of extra seediness that alarms readers enough to make big news out of the alleged meth-fueled encounters between disgraced Colorado mega-preacher Rev. Ted Haggard and his whistle-blowing masseur, or Boy George handcuffing a male hustler to the wall of his East London apartment.
Of course rent boys do sometimes find themselves on the sunnier side of pop culture, like when they were portrayed by River Phoenix and Keanu Reeves in My Own Private Idaho, Gus Van Sant's classic 1991 road movie about the friendship between two male hustlers. Mike Jones got a book deal and an appearance in Deborah Solomon's New York Times Magazine column after exposing his three-year "professional" relationship with Rev. Haggard. And who could forget Manhattan's own Jason Preston, the former escort who famously dated Marc Jacobs for two years? Pictured alternately on his MySpace page locking arms with Courtney Love and posing wistfully in a sleeveless Smiths t-shirt that reveals the numerous star tattoos on his arms, you might say the 28-year-old Mr. Preston was the consummate example of what a rent boy can make himself in New York: a fixture on the downtown social and artistic scene.
But for now Robert doesn't aspire to the party-pictures section of Paper magazine; being a rent boy in this frigid economic climate simply means being able to afford the expensive metropolitan life that many others in more wholesome professions are struggling to sustain.
"The hipster rent boy would be someone who's smart and has a lot of other things going on, lots of ambitions, but who realizes upon coming here that living the whole New York lifestyle is going to be hugely expensive," said Sean Van Sant, U.S. CEO of RentBoy.com, a Manhattan-based Web site that connects male escorts worldwide with those seeking their services. Mr. Van Sant is clearly well-versed in this more subtle brand of rent boy: Though a cursory glance of RentBoy.com will reveal no shortage of beefy Playgirl model types (at least one-fifth of which, Mr. Van Sant said, are actually straight; "gay for pay"), his professional surname recalls the maestro of Idaho in which the brooding son of the mayor, played by Mr. Reeves, navigates his way through the social world of hipster hustlers before performing his Prince Hal-style transformation.
"He's relatively new to New York and has a taste for clothing; wants a better apartment, maybe even a car," Mr. Van Sant continued. "He realizes it's gonna take awhile to get ahead in whatever career he wants to get ahead in, especially if it's acting or fashion or art. And he figures out that he can supplement his lifestyle based on his looks alone."
This was true for Shy (that's a nickname he sometimes uses professionally), a 28-year-old shaggy-haired artist who lives in Williamsburg. Shy moved to the city from upstate New York about four years ago to finish his B.F.A. at the School of Visual Arts. After a year of taking classes full time and struggling to cover his $1,100 rent, bills and art supplies with the money he'd make from miscellaneous freelance gigs—set design, photography, etc.—it was time for Plan B.
"When the financial reality became very hard, there was no thinking about it," said Shy, who answered the phone like he was used to getting calls from random men when a reporter dialed him out of the blue one evening. "It was like, 'Just do it!'"