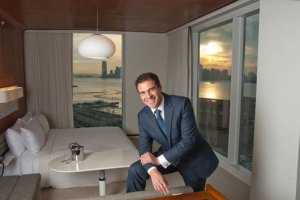 At a time when many New Yorkers are pinching pennies, hotelier André Balazs is decorating the floor with them.
"Oh, fabulous!" said Mr. Balazs, 51, lending his enthusiastic two cents on Jan. 23 to a sample layout of the shiny copper coins. "That's exciting! I love it!"
Hundreds of the pennies will soon be embedded into the dark grayish grout floor of the yet unfinished, yet unnamed restaurant space located on the ground level of Mr. Balazs' hugely hyped new hotel, the 337-room Standard New York, a towering 18-story monument of concrete and glass built on steel trusses above the elevated High Line Park at the corner of Washington and West 13th streets.
"A lot of these old steakhouses had sawdust on their floors, and we were looking for a similarly prosaic kind of material," Mr. Balazs would later try to explain. "Then we were toying with this Standard being kind of the gold standard amongst the other Standards. It just got off on one riff after another."
The decorative currency is just one of many unique touches at the modish new inn, which is now in the midst of its soft opening; floors 4 through 10 are currently open to overnight guests at discounted room rates, ranging from $195 to $350 nightly, but the rest of the place remains a construction site. A planned rooftop lounge, scenic 18th-floor bar and ground-level eatery and beer garden, among other amenities, are scheduled to open in May.
Next month, Mr. Balazs will be outfitting the hotel's elevators with an eye-catching new video installation by noted artist Marco Brambilla. "It's sort of a journey from heaven to hell and vice versa as you go up and down the elevator," Mr. Balazs said.
Completing the projected $200 million hotel will mark a personal milestone for Uma Thurman's ex, who had never before constructed an entire new hotel from scratch. The glamorous, celebrity hot spots for which Mr. Balazs is best known—including the Mercer in Soho, the Chateau Marmont in Los Angeles and the Raleigh in Miami—were all rehabs of existing historic buildings.
"It's somewhat of a crowning achievement for him," said Serge Becker, owner of La Esquina restaurant in Nolita and partner in the popular Lower East Side cabaret theater the Box, and a longtime friend and former business associate of Mr. Balazs who helped design the Mercer's interior.
And talk about timing! A few months later in obtaining the proper financing and—poof!—the looming economic crisis might have wiped out the entire project.
As it stands, Mr. Balazs' hotel may very well be the last unapologetic salvo of New York's recently departed boom, literally a monument to the muscular, ballsy dreaming that swept the cityscape at the 21st century's dawn.
"He just got to finish before the whole thing collapsed," Mr. Becker said. "It's one of the last buildings that's going to go up for quite a while in New York."
"I'm very proud of it," said Mr. Balazs, smartly dressed in a blue suit, as he strolled the open-air plaza outside the new hotel's rather understated entrance on the afternoon of Jan. 23. "I think it incorporates a lot of years of thinking about rooms and spaces and everything else.
"I'd like to think that it's a particularly successful interaction and insertion of a modern building in a very interesting, historic and rough-and-tumble neighborhood. I think that was the challenge, and I think it's working. I mean, just looking at this corner here, you're almost not even aware that there's a building up there."
THIS IS Mr. Balazs' second attempt at establishing a New York flagship for his stylish Standard brand of mid-priced hotels, which also includes two Los Angeles outposts and another in Miami Beach.
His earlier plan to build at 210 Lafayette Street was derailed in the aftermath of the 2001 World Trade Center attacks. "No bank was interested," Mr. Balazs said. "They just assumed that New York was dead to tourism and therefore there was no interest in financing a hotel." Both that site and a second planned hotel at 40 Mercer Street would instead become condominiums.