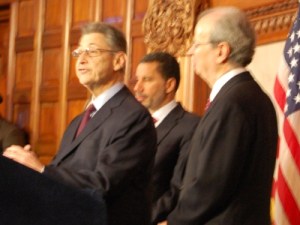 ALBANY—Jonathan Lippman is a smart guy, no question. But what might have put him over the top?
Standing next to Lippman as he accepted the governor's nomination to be the next chief judge of the Court of Appeals was Assembly Speaker Sheldon Silver. The two speak in the same manner of a certain generation of the lower Manhattan neighborhood where they grew up together, attending the same school and synagogue.
"Two kids from the Lower East Side – not too shabby," Lippman said after Silver gave a short speech.
He was greeted by the legal community with a standing ovation.
Sources said Silver (and outgoing Judge Judith Kaye) had been pulling for Lippman, which has in turn been amplified as a suggestion that it was done in exchange for Silver's abrupt softening on Caroline Kennedy.
"No," Paterson replied when asked if this was the case. "I actually did not know the extent of Judge Lippman's relationship with the speaker until I called the speaker to make him aware of the appointment."
The candidate described as the "odds-on favorite" by one longtime observer, Theodore Jones, was thought to have in his favor his presence on the Court of Appeals (Eugene Pigott also falls into this category). No one has become chief judge without serving on the Court of Appeals for over 100 years.
Had Paterson appointed Jones, who also would have become the first African-American chief judge, he would have created an immediate opening on the court that he would have been able to fill. And, having made a big stink about the judicial nominating process yielding a non-diverse set of candidates, he would have been able to choose a woman or someone of Hispanic descent.
"That's an interesting question, one that I felt was not ethical for me to ponder," Paterson said when asked how this factored into his decision. "You can't. If there was some gripe or issue that I had about the process, by allowing the process itself to interfere with my judgment, which is what I felt the committee did, for me to repeat that, and think, 'I'll appoint one of the judges that's already on the Court of Appeals so that I get an opening,' I just didn't think that that was prudent."
"What I could have done was what you were saying, was decided that I'm right, and that the process is, the body would be enhanced by me picking one of two of the seven choices, and then replacing that person with another candidate," Paterson continued. "But that's not what the law set out for me to do, it was for me to pick the best of them, of the judges."
The Empire Center, a conservative think tank, also makes the point that Jones made a strong stand against labor by fining the Transit Workers Union and jailing its president, Roger Toussaint, after a 2005 transit strike. It may have come back to bite him.
Lippman, for his part, said that he would continue the process of reforming the court system. He said he will allow a lawsuit suing for higher judicial pay to continue, and that he supports allowing cameras in the courts.
"I really could not be more thrilled," he said.
Lippman's appointment must be confirmed by the State Senate.