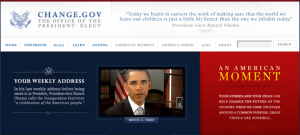 So what is Barack Obama's transparent government going to look like online? We'll find out at 12:01 p.m. today, after Mr. Obama's official inauguration oath, when his new-media team takes over and some content from his transition Web site, change.gov, may be transferred to whitehouse.gov. "The White House is going to be a very exciting place," Macon Phillips, director of new media for Obama's transition team, told the Agence France-Presse. "We're pushing the envelope here."
Mr. Obama's new-media team hasn't released specifics about which features will transfer to whitehouse.gov. A recent addition to change.gov, titled, Citizen's Briefing Book, might offer a clue. Users were asked to submit ideas and "rate or offer comments on the ideas of others." According to the site, "Over 125,000 users submitted over 44,000 ideas and cast over 1.4 million votes. The best-rated ideas will be gathered into a Citizen's Briefing Book to be delivered to President Obama after he is sworn in."
Looks like legalizing pot and becoming a more "green" country are popular ideas.
Yesterday at Change.gov, the Technology Innovation and Government Reform group featured in a video on the site. Micah Sifry of TechPresident.com described "three rising stars of open and collaborative government" featured in the video, including Beth Noveck, author of the forthcoming book Wiki Government; Vivek Kundra, Washington, D.C.'s chief technology officer; and Andrew Mclaughlin, head of global public policy and government affairs for Google.
The AFP reports that Mr. Obama's new-media team will probably face many roadblocks to an open source government.
"Obama is going to change the game with government the way he changed the game with politics," said Simon Rosenberg, president of NDN, a Washington-based progressive think-tank.
"We should expect that experimentation is not just going to happen in the White House, but there will be competition inside the administration," he said at a panel discussion this week on the Internet and policy-making.
"Using these tools is going to become a critical way that Barack is going to evaluate the performance of his own team," Rosenberg said.
"My joke is that at the Monday cabinet meeting the (agency) directors will be comparing notes on how many YouTube views they got and how many comments on their blog post."