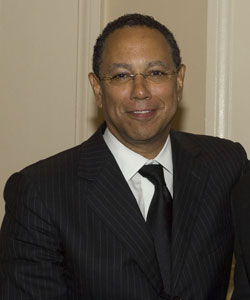 WASHINGTON, D.C.—On the morning of Inauguration Day, while Barack Obama and George W. Bush were traveling in a motorcade from their White House coffee talk to the Capitol for the Big Event, Dean Baquet was scarfing down his second plain bagel and cream cheese of the morning in the offices of the New York Times Washington bureau on I Street.
Out one window, Mr. Baquet could see a mob of people lining up for the inaugural ceremony; out the other, he watched two dozen or so of his reporters reading and passing around copies of Mr. Obama's embargoed address.
He's been the bureau chief here since March 2007, but this is the day his bureau goes from covering a lame-duck Republican to Barack Obama, the most popular president to take the oath of office in decades.
The transition has not been without its disappointments for Mr. Baquet: Between the time Mr. Obama won the election and today, the incoming president had yet to sit down with him or any of his reporters. That reward was claimed instead by their big rivals, The Washington Post, and their not-so-big rivals, USA Today.
"He'll talk to us, he just will," Mr. Baquet told The Observer. "Unless there's some animosity that we have not heard of, he'll talk to us."
Mr. Obama's press team has been proud of its tight management of powerful media players like The Times, but Mr. Baquet was making clear that he does not intend his bureau to be managed.
"I'm not throwing the gauntlet at him, but I'm just suggesting that it would be wise for him to talk to us," he said.
The Times D.C. bureau, a place that has seen both glory days and "toxic storms," as Bill Keller once described it, has never had more pressure to score big.
"I tend to think Dean's biggest challenge is—like Obama's—expectations," said Mr. Keller in email.
"It is a huge moment for the bureau and it is a huge moment for the paper," said Mr. Baquet. "More and more papers have cut back Washington coverage and more and more papers have retreated from covering the bread and butter of Washington. The competitive pressure of competing with the couple papers that still do this, combined with the sort of moral obligation, we have to be even more aggressive because people have fewer sources for Washington news, and that puts a lot pressure on the paper and a lot of pressure on the bureau."
"Everyone recognizes the challenges and the opportunities we have here and we want to live up to it," said Times White House reporter Peter Baker, formerly of The Washington Post. "Now, how do we rise to the historical moment of a new presidency and the enormity of the crisis that confronts him?"
In many ways, the paper is incredibly well positioned to seize its moment here.
Mr. Baquet came into town with a golden ticket—fresh from the L.A. Times, with Pulitzers in his back pocket, and with a wonderful reputation for his time as an editor for The New York Times; when the paper hired him back, everyone was psyched.
In January 2007, in a note welcoming back Mr. Baquet, Mr. Keller wrote that he is a "charismatic leader, an unflinching advocate of the value and values of professional journalism, and a cool character under fire."
And it's come with a special perk.
"I get the sense there's more autonomy here," said one D.C. Times reporter. "Dean is viewed internally more as a player than past bureau chiefs. He's [on the masthead], so he's equal to a lot of those people back in New York, and it has raised the autonomy here."
Indeed, it looks, for now, as though the nasty internecine battles between Washington and the newspaper's New York headquarters have settled into a peaceful detenté. The dark cloud of Judith Miller's reporting on weapons of mass destruction during the run-up to the war in Iraq seemed to have been dispelled in September when former bureau chief and current managing editor Jill Abramson conceded, with humility uncommon in a Washington editor (and in the uncommon context of a Times book review), that she was "too credulous."