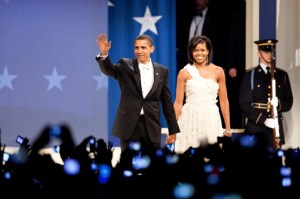 Inauguration day, 2009 was a thrilling affirmation of the United States and the most hopeful day I can remember. The American President is both our head of government and our head of state. He is both prime minister and king. And before about two million people, and millions more on TV and the web, President Barack Obama, again demonstrated the talent to masterfully fulfill both of these roles.
From my perspective it was a wonderful speech. I felt the entire country exhale and breathe a sigh of relief. Here was a voice that over these past two years many of us had come to count on; possessed by a man with near perfect political pitch.  The main message was responsibility and stewardship. He called on all of us to leave behind the childish pettiness of partisan politics and remember that we are a unique community, formed from every part of the planet. As technology shrinks the size of our world and creates a global, interconnected economy and society, he noted that America's diversity got us there first and we have a responsibility to lead.
Of course as in any piece of great pubic oratory there was something for everyone. For me, he said:
"…each day brings further evidence that the ways we use energy strengthen our adversaries and threaten our planet.
"Our capacity remains undiminished. But our time of standing pat, of protecting narrow interests and putting off unpleasant decisions – that time has surely passed. Starting today, we must pick ourselves up, dust ourselves off, and begin again the work of remaking America."
"We will restore science to its rightful place, and wield technology's wonders to raise health care's quality and lower its cost. We will harness the sun and the winds and the soil to fuel our cars and run our factories. And we will transform our schools and colleges and universities to meet the demands of a new age. All this we can do. All this we will do."
"What the cynics fail to understand is that the ground has shifted beneath them- that the stale political arguments that have consumed us for so long no longer apply. The question we ask today is not whether our government is too big or too small, but whether it works"
And finally:
"We are shaped by every language and culture, drawn from every end of this Earth; and because we have tasted the bitter swill of civil war and segregation, and emerged from that dark chapter stronger and more united, we cannot help but believe that the old hatreds shall someday pass; that the lines of tribe shall soon dissolve; that as the world grows smaller, our common humanity shall reveal itself; and that America must play its role in ushering in a new era of peace."
I was not the only one thrilled by President Obama's message,  I heard Conservative pundit, Pat Buchanan, laud our new President in his call for a return to: "…those values upon which our success depends – honesty and hard work, courage and fair play, tolerance and curiosity, loyalty and patriotism – these things are old. These things are true. They have been the quiet force of progress throughout our history. What is demanded then is a return to these truths."
Our new President makes you want to help him and wish him well. I have never seen anything like the flood of support and good will that he has enjoyed these last few days. It was amazing to see and could not be better timed.
Of course inauguration day is more than words, it is also symbols. The most important of these symbols is the peaceful transfer of power represented by past Presidents and Vice Presidents joining together and the great tradition of the outgoing President seated on the podium with the new President. The size of the crowd on the Capital mall and at viewing parties from coast to coast was a thrilling final act of this great pageant of democracy. On the Columbia campus, our President, Lee Bollinger hosted thousands of students, faculty and neighbors in an outdoor viewing of the ceremonies.
To inaugurate is to begin. It is more than a little scary to think of the challenges we face. The sustainability of this fragile blue island in the vacuum of space, the violence of the Mideast, the dire poverty in Africa and the economic crisis here at home. The inauguration of this President was an event of enormous affirmation and, one of unity and inclusion. President Obama referred to his own story and as he often does, used it to demonstrate how much is possible here in America.   In concluding he observed that assuming the Presidency was "a man whose father less than sixty years ago might not have been served at a local restaurant".  This is the promise and potential of America. While watching the ceremony and listening to Aretha sing at the start and Dr. King's colleague Rev. Joseph E. Lowery's benediction at the ceremony's end, I felt like I was dreaming- or watching an improbably sentimental and sappy movie.
But it all was real. Each of us now, in our own way must now participate in the great national renewal that President Obama spoke of on the Capital steps. January 20th was a very moving day that we will need to remember and draw on during the difficult days that are surely ahead.