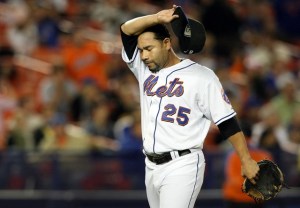 For players in Caribbean winter leagues like Pedro Feliciano, each game is an exercise in multitasking.
Feliciano, who is currently pitching for Leones de Ponce in Puerto Rico, has the immediate task in front of him—helping his team to the Puerto Rican playoffs. Feliciano also has the unenviable task of putting a difficult 2008 behind him. And add to that Feliciano's expected lead role in the bullpen for Puerto Rico in this spring's World Baseball Classic, and it can be hard even for him to keep track of just who he's pitching for on any given day.
Still, Feliciano and the Leones staff have coordinated their efforts to serve all three masters at once. Whether or not it works is still to be determined.
"There is constant communication between our team and the Mets organization," Leones pitching coach Ricky Bones said, standing near the home team dugout prior to Ponce's 6-2 loss to Mayaguez December 27. "I make sure that all the pitchers follow the same program and development that they would with the big league clubs." That means no pitching on back-to-back days if possible, and no more than 20-25 pitches per outing for Feliciano.
Of course, it helps that in Feliciano's case, Bones also serves as a pitching instructor with the Mets.
Feliciano says his primary goal is on putting a 2008 season in which he was uncharacteristically vulnerable to right-handed hitters behind him.
"For much of last season, I was throwing too many sliders to righties," Feliciano said as he reflected on his difficulties in the Ponce dugout hours before a game against Mayaguez. "I have the change that I use on lefties [along with a slider], and I need to throw the fastball in on righties. So I've been working on that since I got here."
Feliciano's results will clearly have to change against righties if he is to resume his 2007 role as a crossover reliever for New York. Righties posted a .357/.453/.561 line against Feliciano in 2008, while lefties hit .210/.280/.295. But this is not the norm for Feliciano. Righties his .221 against him in 2007 and .266 while slugging just .349 in 2006.
So Feliciano knows the problem and seems to have keyed upon the solution—he threw nearly 40 percent sliders in 2008, after throwing less than 30 percent sliders in both 2006 and 2007. And yet, Feliciano had pitched less than a full inning in two of his first three appearances since joining Leones de Ponce on December 20.
"Pedro's our situational pitcher," Leones manager Eduardo Perez said when initially asked about Feliciano.
Perez certainly didn't ignore the realities of his players and their situations—a longtime major league veteran, he often juggled the responsibilities to his winter-league and major-league teams.
"The advantage of playing here is, you can work on the skills that need working on," Perez continued. "You can come out early, get your work in, then put it into play when you get into the games. You're getting ready for your job in the states—you can tell your team, 'Listen, I worked on this.'"
But at the same time, Leones was closing in on a Puerto Rico winter league title, and Perez twice had occasion to use Feliciano in tandem with the right-hander Fernando Cabrera in order to win ballgames late.
"It is very important to us, and to the fans," Perez said of the winter league title. "The fans have really taken to this team." Still, Perez gave Feliciano his full inning on December 28 against Santurce—a scoreless frame.
And ask Perez about his first WBC at-bat in 2006—it's one of the greatest moments of his career, he says.
"You want to talk about pressure—I hit for Bernie Williams," Perez said. "It was as emotional an at-bat as I can remember. I was facing Gustavo Chacin of Venezuela, and it was definitely a huge moment for me." He remembers the result—a single to right-center—and even the pitch—a 1-0 fastball away.
So clearly, there won't be any unimportant pitches in Feliciano's future. But what of Feliciano's workload? After a full 2008 season, Feliciano joined a Leones team likely headed to the Caribbean League playoffs–where the champions from Puerto Rico, Venezuela, Mexico and the Dominican Republic face off. Immediately afterwards, Feliciano will begin training for the World Baseball Classic in March—which ends just before the Mets' 2009 season starts.
Bones, for one, believes it will be an advantage.
"For Feliciano, the extra build-up will mean when the WBC comes, he'll be ready to pitch," Bones said.