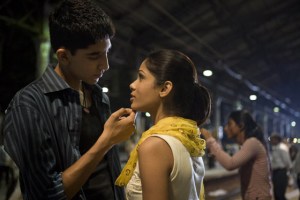 As much as we loved seeing the inauguration of Barack Obama yesterday, our long national nightmare doesn't officially end until tomorrow morning. After what feels like eight years, the Academy Award nominations will finally (finally!) be announced, putting an end to the endless season of speculation. In lieu of any predictions–be honest, how many times can you read that Heath Ledger will get a nomination for Best Supporting Actor before wanting to rip your cable modem out of the wall?–here are three out-on-a-limb nominations we are expecting to see.
Best Picture: Gran Torino ethnically slurs its way to the Kodak Theater!
No matter what site you refer to, almost everyone assumes the five Best Picture nominees will be Slumdog Millionaire, The Curious Case of Benjamin Button, Milk, Frost/Nixon and The Dark Knight. And, as the story goes, if there is one film perilously close to being knocked off, it's Batman's. With due respect though, doesn't it seem like The Dark Knight is the one sure lock outside of Slumdog Millionaire? After receiving notices from all three major guilds–Producers, Writers and Directors–plus a slew of technical nominations almost guaranteed, The Dark Knight isn't only safe in the Best Picture category, but lined up to have the most nominations of any picture… period. With Slumdog Millionaire, Benjamin Button and Milk all also firmly ensconced, that leaves Frost/Nixon as the lone vulnerable choice. Like The Dark Knight, Ron Howard's film scored a trifecta of guild nominations, but there doesn't seem to be a whole lot of other support beyond the rote assumption that Frost/Nixon will "just be there." Gran Torino, on the other hand, is a box office smash, and features the beloved Clint Eastwood. After Million Dollar Baby stole the Oscars in 2005, we've learned never to count Clint out. Expect to see him in the final five. Sorry, Opie.
Best Supporting Actor/Actress: Don't Sleep on Slumdog Millionaire's kid stars!
Slumdog Millionaire is the prohibitive favorite to win Best Picture, but its stars, Dev Patel and Freida Pinto, have only barely been discussed as possible nominees. What gives? In recent years, we've seen out-of-nowhere supporting nominees from Best Picture winners Chicago (John C. Reilly, Queen Latifah) and Crash (Matt Dillon). Why can't Slumdog Millionaire accomplish the same feat? Though Mr. Patel's performance is certainly a lead, Fox Searchlight has been campaigning him for Supporting Actor. That's fine; he joins both Phillip Seymour Hoffman and Michael Sheen as lead actors attempting to moonlight in the easier supporting category. The object of Mr. Patel's on-screen affection, Ms. Pinto, hasn't generated much heat at all while vying for a spot in the very competitive Best Supporting Actress race. However if we know the Oscars, they'll find a way to get her pretty new face into the starting gate. Robert Downey, Jr. and Kate Winslet should start getting worried.
Best Director: The Jonathan Demme Lifetime Achievement Nomination!
Only once in the last ten years have the five Best Picture nominees lined up with the five Best Director nominees (the 2006 ceremony when Crash won). And though both the Producers and Directors Guilds were in lockstep with their nominations, we still smell an upset. Usually the fifth slot goes to a real director's director with no chance of winning–someone like Atom Egoyan, Mike Leigh or Julian Schnabel. Mr. Leigh, a two-time nominee in this category, could sneak in again for Happy-Go-Lucky, but we think it's more likely that Jonathan Demme gets rewarded for his talky, Altman-esque work in Rachel Getting Married. When it was released last October, Rachel Getting Married was the belle of the ball and on its way to a slew of awards. Now, it's barely being mentioned beyond Anne Hathaway. But Mr. Demme has a lot of fans amongst his peers and hasn't been nominated since 1992, when he won for Silence of the Lambs. He's due for some recognition.