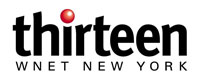 WNET-Thirteen, PBS's flagship station in New York, is on the verge of enacting significant staff and budget reductions for the coming year. The layoffs will also affect sister station WLIW-21 and the station's parent public media organization WNET.org.
Neal Shapiro, President and C.E.O. of WNET.org, told The Observer on Thursday evening that his organization, including the stations, will be cutting 8 percent of its budget for the upcoming fiscal year. The cuts will be achieved, according to Mr. Shapiro, through cost-cutting measures (such as reductions in back-office costs) and by reducing the current staff by roughly 14 percent.
Out of roughly 500 individuals, 85 or so will be losing their jobs.
The current round of cuts comes at a time when for-profit media companies across the country are suffering from a significant downturn in advertising. Public media outlets are faring little better. Back in December, executives at National Public Radio announced that they were cutting 7 percent of NPR's work force and slashing expenses across the board. It was the first major round of layoffs at NPR in roughly a quarter century.
According to Mr. Shapiro, individual, corporate, and government funding for WNET and WLIW has declined significantly in recent months.
"A lot of the people that give to us generously find that they themselves have less to give," said Mr. Shapiro. "A lot of the foundations we depend upon, their portfolios are down, just like everybody's individual portfolios. Especially in a city like New York. It's doubly hard because many of the people who are contributors work in the financial sector, and we all know what's happened to them."
The organization's endowment also took a major hit during the market downturn, declining by roughly 25 percent, from $112 million in June 2008 to $84.5 million in January 2009. To make matters worse, Governor David Paterson recently submitted a budget that calls for a 50 percent reduction in the overall funding for public television—a reduction which, if passed, would amount to a roughly $4.5 million cut for WNET.org.
"If that happens, we'll have to take more actions," warned Mr. Shapiro.
Mr. Shapiro, the former president of NBC News (from 2001 to 2005), took over the public media group in February 2008 after a year-long transition period. He replaced former chief William Baker. Mr. Shapiro came in hoping to increase the metabolism of the public television stations and to put more emphasis on digital media.
On Thursday, Mr. Shapiro said that he still had great ambitions for the organization, but acknowledged that some of his goals might have to be put aside for the time being.
"I haven't lost my enthusiasm or my dreams about how to make this great institution even greater, but I have to be realistic," said Mr. Shapiro. "As a nonprofit, we don't have to turn in a 10 percent year-end return, we have to break even. But that's affected by the whole environment in which we operate. If that means, we have to back-burner some things for a while, we'll do that. I still believe in the mission."
"Given how perilous the economy is at the moment, I think these are the right steps to take," he added.