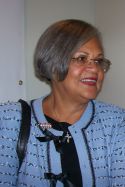 Assembly Majority LeaderBonnie Watson Coleman (D-Ewing) today released a statement on the occasion of President Barack Obama's swearing-in ceremony.
"The hope and optimism that surrounds President Obama's inauguration could not come at a more fateful time for our nation," said Watson Coleman, a former State Democratic Party chair and rumored to be a short-list candidate for lieutenant governor. "Buffeted by recession and torn apart by war, our nation now has in the White House the inspirational and hard-working leader we need to renew America's promise and repair our collective faith.
"Closer to home, New Jersey now has a true partner who will work with us to jumpstart our economy and deliver on the federal government's many broken promises of support," Watson Coleman added. "Barack Obama may be America's first African-American president, but more importantly he is America's president – period.
"Today is a day of celebration for all people yearning for change. Tomorrow the real work begins. We cannot squander this historic moment and all its promise."