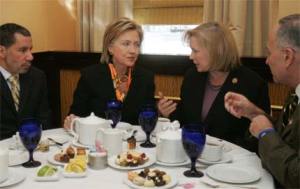 New York's new senator-to-be, Kirsten Gillibrand, did the Harlem-Queens route yesterday on a sort of downstate "listening tour."
She also met with David Paterson, Chuck Schumer, and Hillary Clinton, all together.
The New York Times profiles her political roots, early life and career.
Gillibrand is not popular with her peers, mainly it seems because of unbridled ambition.
Glenn Thrush gets Gillibrand's own opposition research.
Ben is intrigued by her lineage.
An environmental blog hopes an event with Gillibrand is still on.
There are more and more people seeking to replace her.
Paterson is being nasty about Caroline Kennedy, reports the Post.
Also in the Post, the Kennedys let Paterson know they aren't happy with him.
Now that it's mostly over, Chuck Schumer is the big winner, writes Fred Siegel, and with Michael Bloomberg and Paterson the losers.
Chris Smith has a scathing review of the way Paterson handled the appointment process. 
The governor is headed to Davos.
Clive Crook writes,"the significance of the new president's first executive orders should not be underestimated."
The ethics investigation into Charlie Rangel looks stalled.
Pete King says there's a "cloud" over Paterson's appointment of Gillibrand, but it's not clear if that cloud has anything to do with her.
The Daily News catches King giving a donor $3 million to provide lockable manholes.
Companies are no longer looking to sign new natural gas leases in the Marcellus Shale.
The Democrat & Chronicle asks for mandate relief.
The Observer-Dispatch calculates the costs of fixing upstate infrastructure–some of the country's oldest–and finds it overwhelming.
A Utica blogger thinks a Utica-focused regional plan is necessary.
Being indicted hasn't affected Anthony Seminerio's work in the Assembly.
Three hundred people showed up to protest tolling the Cross Bay Bridge.
There will be a hearing on air quality at the cruise terminal in Red Hook tomorrow.