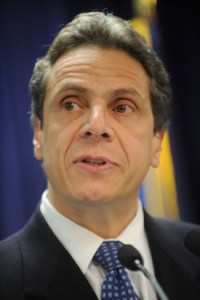 Go ahead, David Paterson, thumb your nose at Andrew Cuomo, the boundlessly ambitious political legacy who's hoping to capitalize on the demise of another, slightly less ambitious, legacy: it won't come back to haunt you.
Cuomo wants to be a U.S. senator for the same reason he wanted to be attorney general in 2006: to climb further up the political ladder, one step closer to national stardom, which has really been his only goal all along. And now that Caroline Kennedy and her mega-powerful backers are, you know, out of the way, Mario's boy is the last big name standing.
Part of Cuomo's strategy, of course, is to feign indifference, the same way would-be running-mates always pretend they aren't really interested in being vice president. Desperation can be very unflattering. But even though we haven't heard much from him, the case for appointing the A.G. to the Senate continues to make its way into the media.
The case for Cuomo is largely built on a threat: if Paterson picks him, he won't have to worry about a challenge from Cuomo in the 2010 gubernatorial primary.
As unseemly as this is, there is – on the surface – something to it. Cuomo, like Eliot Spitzer before him, has skillfully turned the A.G.'s office into a veritable publicity machine, garnering wide media attention with high-profile prosecutions that, quite conveniently, will make for nice bullet points in future campaign mailers. Six years after his disastrously abortive gubernatorial bid, Cuomo has completed a magnificent image rehab.