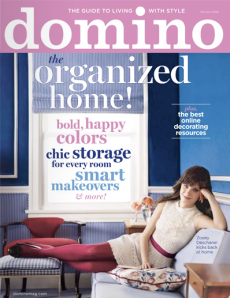 On Monday night, at the bar in the Gramercy Park Hotel, Glamour publisher Bill Wackermann and Domino publisher Beth Brenner were having a blast. At one moment they were in deep conversation. The next they were slapping knees and laughing.
This was keenly observed by many Condé Nast publishers and business people in the room at the company's annual January retreat (this time on Lexington Avenue instead of at a sunny resort in Flordia). Two weeks earlier, Mr. Wackermann was named the "publishing director" of Domino, a move that gave him full control of the embattled magazine, but allowed Ms. Brenner to retain her title.
So as Mr. Wackermann and Ms. Brenner chatted away a few nights ago, several in the room started to think that Domino's new team was starting to gel, and maybe there was hope for the magazine, after all.
Ms. Brenner told us as much when the announcement was made.
"I know you wanted to talk about today's events, which I see only as a great show of support by Condé Nast for Domino and our future," she wrote in an email the day Mr. Wackermann got his new job. "Bill is a super smart and a great businessman and I am thrilled to have him as my partner on Domino."
But all wasn't well. In the previous weeks, according to sources, Condé Nast execs were quietly looking around in-house to replace Ms. Brenner as publisher. No one wanted the job.
The shelter category has been the magazine world's biggest victim thanks to the recession, and Domino's dim prospects have been widely speculated about at 4 Times Square.
Yesterday, Si Newhouse folded Domino, and Condé Nast CEO Chuck Townsend said in a statement that it was because "this economic market will not support our business expectations."
It seemed to catch everyone by surprise.
Editorial staffers who remained optimistic were said to be caught entirely off guard. On Tuesday night, when Condé Nast was handing out its awards to publishers of the year over plates of creamy polenta and duck at the West Side Italian restaurant, Scarpetta, it was mentioned by no one.
The Wackermann resurrection project, for whatever reason, was abruptly abandoned.
A spokeswoman told The Observer that the economy forced an immediate decision. But it appeared to have all the signs of that old tale told throughout the ages at Condé Nast: Si Newhouse woke up and made a decision.
Ms. Brenner and editor in chief Deborah Needleman were both leaving the company, a spokeswoman said, and some editorial and business staffers would be retained, but she couldn't say how many.
In media circles, Domino was a popular magazine. It launched with great buzz in 2005, and the magazine was nominated for two National Magazine Awards in 2008.
And from a business standpoint, Domino isn't DNR, nor is it Men's Vogue, which Condé Nast recently folded and downsized, respectively. Domino, with a circulation of 800,000, is the biggest magazine the company has shut down since House & Garden in the fall of 2007.
The shuttering of Domino, with ad pages down only 5 percent in 2008 against double-digit losses on average industry-wide, has led sources in the building at 4 Times Square to wonder whether respectable numbers alone are enough to ensure a magazine's continued support by the company.
What if the standards for revenue are higher for what are called "B titles," the second-ranking title in a particular category? Looked at one way, Domino, though very different from Architectural Digest, is not the premier title in its category.
Take, for example, Details. The title won a publishing award on Tuesday night, capping off a year in which ad pages were down just 6 percent. But is that good enough when the company has to spend money and effort finding advertisers to support the A-title in the men's category, GQ?
Bon Appetit was, inside the building, considered a likelier target of cuts than Domino had been. Its ad pages are suffering much more acutely than Domino's were, and the title is the little sister of industry leader Gourmet.
The news that jobs would be found inside the company for many of Domino's employees seem to suggest that the move is a consolidation in the category. If that's true, B titles, regardless of how well or poorly they are doing, may be the next targets.