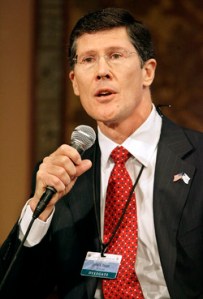 The $35,000 commode and $25,000 antique mahogany pedestal table that former Merrill Lynch CEO John Thain purchased as part of his $1.2 million office renovation weren't that excessive, according to dealers at the Winter Antiques Show. 
"It's a nice furnishing job," a New York dealer named Clinton Howell told Bloomberg News. "But it's not extravagant."
Though listed as one of the expected attendees, Mr. Thain did not show up to the opening night party of the Winter Antiques Show last Thursday night, possibly because he had just gotten fired that day by his new bosses at Bank of America, which took over Merrill Lynch in September. (He has offered to pay the company back for his office renovations.) Also potentially awkward: The show, which is currently taking place at the Park Avenue Armory, is sponsored by Bank of America.
Still, the dealers at the show seemed defensive that the former CEO's purchases being deemed inappropriate. 
"He could have spent considerably more," said Gaylord Dillingham of the Dillingham & Co stand at the fair. "As a humble used-furniture dealer for 35 years, there would be nothing crazy about this if he were making $15 billion for the company." (Unfortunately, Merrill instead experienced a $15.3 billion loss under Mr. Thain's leadership.)
In fact, Mr. Thain's purchases were even deemed sound investments by the dealers. 
"You spend $40,000 on an antique and it's going to maintain value. A reproduction is not," said another dealer.