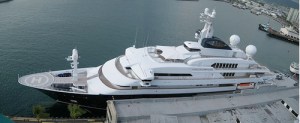 In October–right around the time that the financial crisis began to seem a whole lot more real–hedge fund billionaire Carl Icahn put his 177-foot yacht, the Starfire, up for sale for $37.5 million. Then, Russian billionaire Roman Abramovich, who has been so affected by the economic downturn that he reportedly had to call off his New Year's Eve party in Aspen, is reportedly about to make a decision about whether he will sell off his Chelsea soccer club or megayacht Pelorus that has a pricetag of $300 million. And just yesterday, billionaire Ron Perelman put his 190-foot yacht Ultima III–equipped with eight bedrooms and a jacuzzi in which Gina Gershon once soaked–for $67 million. 
But just as some of the most richest men in the world are ditching their sea toys, Microsoft co-founder Paul Allen is still hanging on to his $200 million, 414-foot yacht Octopus, where George Soros reportedly just celebrated New Year's "with two young brunettes." The yacht, which houses a crew of 60, two helicopters, seven boats, a submarine, and a remote controlled vehicle that crawls the ocean floor, costs the billionaire $20 million a year (or $384,000 a week) to keep up. And yet, in today's New York Social Diary, David Patrick Columbia doesn't seem to address the mindblowing cost of upkeep of the yacht as much as he does the yacht's supposed illegal disposal of garbage. In fact, the post is written to apologize to Mr. Allen for suggesting that his luxurious yacht may not have a proper garbage-disposal system: 
"In last Friday's Diary, I wrote that Mr. Allen's Octopus – which was down in St. Barth's over the holidays – when it was in Capri two or three years ago, was accused of disposing of its garbage, before pulling up anchor, by throwing it into the sea. Yesterday I got a message from Mr. Allen's office insisting that this story was NOT TRUE. I must say that when I first heard it, I thought to myself 'this doesn't fit the public image of Mr. Allen.'"
Spending $384,000 per week on yacht upkeep, however, does.