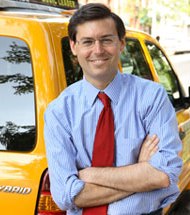 David Yassky's comptroller campaign has hired Josh Isay, the Democratic consultant who is also working on Michael Bloomberg's re-election campaign and who, until recently, was running Caroline Kennedy's effort to win appointment to the Senate.
Yassky announced the hire, along with others, in an email to supporters.
Isay will be the media consultant; managing the campaign will be Cathy Toren, Yassky's former chief of staff, and Joel Benenson will do polling.
Here's the email:
Dear Friend,

Over the past few months, I have been working in the City Council to address the enormous challenges posed by the economic meltdown. We passed a difficult but necessary budget-balancing package in December, and announced an important new initiative to encourage lending to small businesses in the City.

At the same time, I have been laying the groundwork for a campaign to become City Comptroller, so that I can push forward our vision of an accountable, innovative, and results-focused city government. Primary Day is less than eight months away, and we have an enormous task ahead. Our formal campaign launch will come later, but we must begin working now, and at top speed.

Toward that end, we are putting together an absolutely first-rate team to bring us to victory. And I hope you'll be a part of it.
Click here to sign up as a volunteer. And then tell your friends.

I'd like you to meet the campaign professionals who will be leading the effort:

• Joel Benenson will do the polling and sharpen the message. As someone who's worked with Joel in the past, I've known for years how extraordinary he is. Now everyone knows, since Joel was the lead pollster for the Obama campaign.

• Josh Isay will handle the media and political work. I've admired Josh since our days together working for Chuck Schumer in the 1990s, and there is not a more incisive strategist in New York.

• Cathy Toren will manage the campaign. Many of you know Cathy from her prior service as my Finance Director and then Chief of Staff, so you know that she is a skilled manager with a gift for getting top performance from those around her. All three of our team leaders have not only great intellect, but also real integrity – you will be proud to be associated with the campaign they shape.

• Finally, Blue State Digital – the company that helped Barack Obama build his unprecedented volunteer army and individual donor base – will help us build our constituency over the Internet. I am enthusiastic to have their tools at our disposal in order to make the campaign more accessible to you.

In the coming months we'll bring on our field team and continue to build out our first-rate staff. We'll also need lots and lots of volunteers, so I hope you, your children, grandchildren, neighbors, co-workers, and friends will come on board.

Click here to sign up as a volunteer. And then tell your friends.

We are setting up events in every part of the City – please let me know if you can join a host committee for one of these, and help get your friends and neighbors into a living room to talk about the crucial choices we face this year.

Thanks for all you're doing to keep New York on the right track.

Sincerely,

David