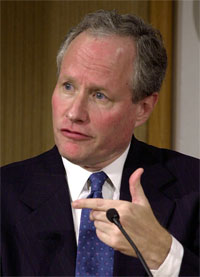 Bill Kristol's column for The New York Times has come to an end. Today's installment of his year-old Op-Ed column ends with a curt note that reads, "This is William Kristol's last column."
From the very start of his column last year, Mr. Kristol drew criticism from writers like The Atlantic's James Fallows, who wrote of Mr. Kristol's debut on January 7th, 2008:
A single cliched phrase, like the last sentence of the first paragraph, can be effective. A whole string of cliches, like the second paragraph, is effective only in raising questions about the author's skill and quality of thought. The passage might serve as a test for prospective copy-editors. For instance: 'What is avoidably awkward about the sentence beginning, "After all, for all his ability …"?' Or, "How could the author express his thought without cliches?"
More recently, The New Yorker's George Packer wrote on November 17th, 2008:
The real grounds for firing Kristol are that he didn't take his column seriously. In his year on the Op-Ed page, not one memorable sentence, not one provocative thought, not one valuable piece of information appeared under his name. The prose was so limp ("Who, inquiring minds want to know, is going to spare us a first Obama term?") that you had the sense Kristol wrote his column during the commercial breaks of his gig on Fox News Sunday and gave it about the same amount of thought.
That same month, Mr. Kristol told The Observer that writing for The Times, "I've had zero problems, issues … It's been low drama. Despite all the dramatics in the blogosphere, it's been a very undramatic experience for me."