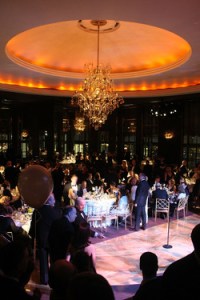 The recent misfortunes of the Cipriani family—losing the lease on the Rainbow Room, a major drop in business and the tax liens filed against Giuseppe Cipriani, among other problems—can at least in part be attributed to a general malaise in the New York party scene these days, according to Bloomberg News. 
From an article published today about the Cipriani family's troubles: 
The party trade is falling victim to a new sense that it's not nice — or smart — to flaunt wealth these days, says
Jacob Jacoby
, professor of retail management and consumer behavior at New York University's Stern School of Business.
"The values in force now are 'Let's not be exorbitant and let's be sensitive,'" he said. "Many people are losing jobs. For the firms that go there and pay exorbitant fees, it could conceivably be a problem if it gets into the media." 
Anecdotally, we've noticed that this general sense of shame has been descending upon New York's society for some time now. Companies and sponsors are afraid to host parties in fear of seeming insensitive. Socialites and celebrities are similarly hesitant to attend them. And for those still going out, seeming as if you might actually be having fun is absolutely, positively unacceptable. All of these factors seem to feed into each other. After all, why would you host even an intimate gathering if no one is willing to show up for the open bar? 
This is precisely why the law firm Fried, Frank, Harris, Shriver & Jacobson LLP, investment adviser BlackRock Inc., the Montel Williams MS Foundation and the Acting Company have all pulled out of holding annual galas at the Cipriani restaurants. And we imagine that other big spring galas and balls—charity-purposed or not—will follow closely behind. (Today New York magazine announced that it is canceling its wonderfully casual Oscar viewing party at the Spotted Pig this year.) 
Bloomberg tapped New York Social Diary's David Patrick Columbia to figure out what it means to the social set for these venues to close down. Naturally, Mr. Columbia seemed most concerned for the financial futures of certain ladies who have come to rely on a money-through-marriage sort of arrangement.
"It has been a go-to place for the smart set and the jet set, for the rich, the chic and the shameless," Mr. Columbia told Bloomberg. "You see matrons there, you see movie stars there, and you see ladies pursuing a certain matrimonial future. It's about sex, not food."