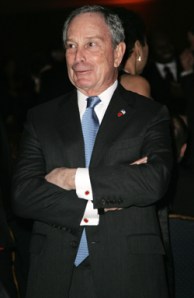 As the first decade of the 21st century closes, the climate problem is starting to mature, both as a policy issue and as an area of academic inquiry. In fact, we are starting to see the development of two distinct elements to the field. The oldest area of inquiry is the one that seeks to understand the causes of climate change and tries to prevent them from taking place. This is an effort to mitigate or reduce the amount of climate change. One of the facts of climate science is that the carbon dioxide that causes global warming tends to accumulate in the upper atmosphere. Much of the carbon dioxide that we have emitted since the 20th century remains in the atmosphere, and even if we stopped all fossil fuel emissions today, some amount of global warming is already inevitable.
For that reason, many policy analysts, climate scientists and engineers have begun to concentrate on the issue of adapting to climate change. Here at Columbia's Earth Institute, our NOAA-funded International Institute on Climate and Society, our Lenfest Center for Sustainable Energy and our Columbia Climate Center have all begun to focus some of their work on adapting to climate change. It's not that we are giving up on preventing additional damage, it is simply that some of the damage has already been done, and we need to learn to cope. Many of Columbia's climate scientists at the Lamont Doherty Earth Observatory continue to research the basic causes and impacts of climate change. In the long run, there are limits to how far adaptation will take us.
For New York City, one of the central impacts of climate change will be the possibility of sea level rise caused by melting polar ice. New York is a coastal city with nearly 600 miles of waterfront. With the exception of the Bronx, which is on the US mainland, the rest of the city is on Long Island, Manhattan Island and Staten Island. Notice the island theme…
In a report released February 17, a panel of climate change scientists, academics and private practitioners stated that New York City will face higher temperatures, more frequent and intense rain and increased coastal flooding in the years ahead.
The New York City Panel on Climate Change (NPCC) predicts New York City's mean annual temperatures will increase by up to 3 degrees in the next decade and 7.5 degrees by the 2080s. Meanwhile, annual precipitation will grow by as much as 10 percent, and sea levels will rise by 12 to 23 inches by the 2080s. If a more rapid "ice melt" approach is taken into account, that level could be as high as 55 inches by the end of the century.
"Heat waves will become more frequent, intense, and longer in duration and brief and intense rains likely will lead to inland flooding," the report claimed.
The projected effects of such climate change on New York City's infrastructure include increased peak electricity loads in summer and reduced heating requirements in winter due to more extreme temperatures. We will also see increased street, basement and sewer flooding, and possibly a reduction in water quality. Rising sea levels may also cause structural damage in low-lying areas of the city.
The report will guide the Climate Change Adaptation Task Force, which is working to prepare the city's infrastructure to handle the effects of climate change. The Department of Environmental Protection's Rockaway Wastewater Treatment Plant, for instance, is preparing for increased costal flooding by elevating electrical equipment, such as pump motors and circuit breakers.
"Planning for climate change today is less expensive than rebuilding an entire network after a catastrophe," said Mayor Michael Bloomberg, who formed the panel to conduct the study. "We cannot wait until after our infrastructure has been compromised to begin to plan for the effects of climate change now."
In response to the report, Joseph Bruno, commissioner of the Office of Environmental Management, said New York already has developed comprehensive plans to deal with heat, flash flooding, and coastal storms. But he also urged New Yorkers to do their part: "We continue to encourage all New Yorkers to learn about the hazards they face and take the simple steps necessary to prepare for them."
Although the panel sought to reduce the uncertainties in their findings, which were based on a range of global climate models and greenhouse gas emissions scenarios, its members admitted that such uncertainties cannot be eliminated.
There are a lot of factors that will influence the accuracy of these projections. First, we may figure out how to reduce the production of greenhouse gases. Second, we may learn how to sequester and store carbon and develop policy mechanisms to deploy this technology and pay for it. No matter what we do, however, it is prudent to expect some of the impacts identified in New York City's analysis. Much of New York's water, sewage, transportation and energy infrastructure is aging and vulnerable. We will need to be constantly investing in its rehabilitation and upkeep from now on. As part of this routine maintenance and replacement program, we should analyze increased impacts from climate change. Mayor Bloomberg's leadership on the issue of climate adaptation deserves our praise and support.
I am grateful for the research assistance of Sara Schonhardt, Master's Student, Columbia University's School of International and Public Affairs