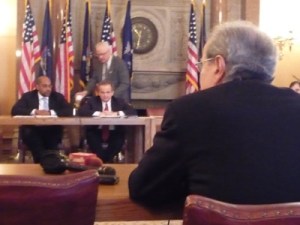 ALBANY—After 90 minutes of back-and-forth from various witnesses, who testified about his character and the process by which he was nominated, chief judge-in-waiting Jonathan Lippman moved smoothly out of the State Senate Judiciary Committee.
Lippman made a brief statement about his dedication to the court system, in which he has been employed for 40 years, saying he has "been down every conceivable road in the court system."
"I'm so proud of the accomplishments that we have been able to achieve over these years," he said. "I also believe that I propose for the court system a modern, proactive agenda that has in mind one thing, that is the well-being of our citizenry."
Lippman then faced questions.
"Once you leave New York City, there is no diversity in New York state courts," said State Senator Martin Malave Dilan.
"That's all of our responsibility," Lippman said, pledging to address the issue. "The court system can do better, the political system can do better."
When asked about the issue of judicial pay raises, Lippman said it was "priority one, two, three, four, and five," adding: "We need a permanent solution that takes the salary issue out of politics."
Other senators stated for the record their support for Lippman but then had questions about the lack of gender and ethnic diversity that this judicial nominating cycle yielded. State Senator Ruben Diaz Sr. abstained from voting for Lippman's nomination.
"If I vote yes, that makes me part of the problem," Diaz explained. "It makes it appear like racism, like discrimination."
Most members of the committee left (seven remained) before Lippman's nomination was put up for a vote. But it passed. Lippman's ascension must now be voted on by the entire State Senate.