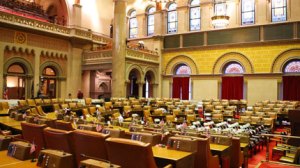 ALBANY—Everyone's busy, but no one's here.
State senators, led by Majority Leader Malcolm Smith, are traveling to Washington D.C. today to meet with congressional officials and get briefed on the money coming to the state from a federal stimulus plan. The delegation of 17 senators–including two Republicans–is making the one-day excursion before a week-long break from session.
David Paterson has made several lobbying trips to Washington since the budget deficit ballooned to crisis proportions, but his is sitting this one out. Instead, the governor will be at SUNY Morrisville, a remote college in central New York, conducting another town hall meeting, before making his way back to the Capital Region.
And Attorney General Andrew Cuomo is continuing to make his case about the need to strip down the layers of government in New York with a presentation in Rochester.(He'll be speaking in the Golisano Auditorium at the Rochester Institute of Technology.)
Assembly Speaker Sheldon Silver and Comptroller Tom DiNapoli have no public schedules today.