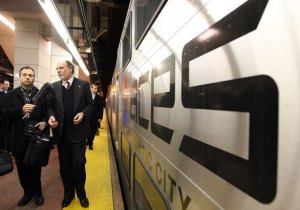 Ornery old James T. Raleigh couldn't help but snicker.
New Jersey Governor Jon Corzine had just publicly christened the maiden voyage of the new Atlantic City Express Service (ACES), the region's first direct train from New York to Atlantic City in decades, and then abruptly hopped off the illustrious locomotive at its very first stop in Newark.
"I went into Penn Station and watched him say, 'Let's go gamble!'" guffawed the gregarious Mr. Raleigh of Monmouth County, N.J., an avid train buff gushing with railroad trivia and spouting off about government waste.
The new train's inaugural voyage, departing at 2:30 p.m. on Friday, Feb. 6, was just that sort of absurd ceremonial event.
"I think the press outnumber the paying passengers by a good margin," said fellow train aficionado Gary Kazin of Rockaway, N.J. "I got interviewed by News 12 at Newark, so I might be on tonight," noted Mr. Kazin, whose shiny belt buckle depicted an old steam-powered locomotive. "The friends that I'm traveling with, they got a much longer interview, of course, because it's a husband and wife traveling together. They look like the typical Atlantic City people."
Mr. Kazin and Mr. Raleigh, both card-carrying members of the Lackawanna Coalition, a Garden State transit advocacy group, met up on this momentous day in transportation history along the lower coach level of the double-decker, four-car, 300-seat train as it hurtled toward New Brunswick.
Each had plenty to say about the fancy new choo-choo with its custom-designed leather interiors.
"It would be nice if the seats could be set up to face forward—my seat faces backward now," Mr. Kazin said. "Of course, we change directions at one point," he added. "So, half the ride is one way, half the ride is the other."
Mr. Raleigh griped about the tummy-crushing retractable tray tables. "I don't think they tested it against people," he said. "Try to pull it toward you and it's into your gut!"
Three of Atlantic City's biggest hotels and casinos—Caesars, Harrah's and Borgata—ponied up more than $19 million to kick-start the hugely advertised new public-private train service, which is operated by New Jersey Transit, with an additional $4.5 million in funding from the state's Casino Reinvestment Development Authority. The train, for now, runs only on weekends.
The direct route takes about two and a half hours—cutting out untold hours that travelers normally endure on the New Jersey Turnpike, or waiting to transfer at the great transit fustercluck that is Philadelphia's 30th Street Station. "By not going into Philadelphia, we miss the worst part of the line on both [Amtrak's Northeast] corridor and [New Jersey Transit's] Atlantic City line," noted Mr. Kazin.
(On the return trip, The Observer opted for the local train and encountered a two-hour delay in Philly as Amtrak officials scrabbled to locate a replacement engine for a broken-down train in Washington, D.C. Station announcer Fulton Lamin indicated this was fairly typical for a Friday night. "Feet and ass—that's all you're going to smell," an Amtrak policeman warned. "This time of night, everybody's got their shoes off.")
THE LAUNCH OF the flashy new train service comes at a crucial time for Atlantic City, where recent figures show gambling revenues falling 7.6 percent and casinos cutting nearly 2,700 jobs over the past year. Local officials are betting the faster, newer form of transport will attract more New Yorkers to the city's dining and nightlife options as well.
"We've never been to Atlantic City—shit, I've never even been to a casino," said 28-year-old medical student Donnie Garrett of Harlem, who was traveling with his Texas-based girlfriend, Audra Ashley, 23.
Both were clutching plastic cups of Red Bull and vodka—a total investment of $30 at the pricey food and beverage kiosk nearby—as the train idled for nearly 20 minutes while the conductor switched from electric power to diesel before crossing the Delaware River.
The couple were headed to the Borgata for a friend's overnight birthday bash. Other revelers were content to take the bus. Not Mr. Garrett: "Why would I want to ride a motherfucking bus when I could ride the train?" He figured more people would feel the same way. "I expected it to be packed," said Mr. Garrett, surveying the sea of empty seats in front of him. "This isn't packed at all. There's nobody here."
As the train pulled into Atlantic City at 5:15 p.m.—one minute ahead of schedule—a cluster of Borgata executives in dark suits pounded back shots of tequila at a beverage kiosk momentarily renamed "Ray's Bar" in honor of the casino's fun-loving director of poker marketing, Ray Stefanelli.
Auggie Cipollini, a senior vice president, said he was less concerned about initial ridership than the entire lack of express service on weekdays, when the gritty seaside gaming town is most hurting for business.
"It's all that commuter traffic during the week going through the tunnels—there's just not enough room [for another train]," Mr. Cipollini explained. "The idea is we'll get this up and running and maybe we'll figure out some way to do it during the week."
cshott@observer.com