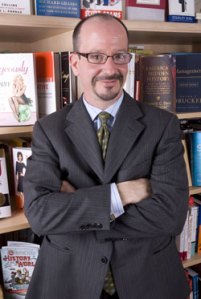 A fire broke out Monday, Feb. 9, around 11 p.m. on a construction site next door to the HarperCollins offices. Then, the next morning, the publishing house's U.S. president, Michael Morrison, sent a memo to staff saying that a massive reorganization of the company was under way and that Collins, one of three divisions in the building dedicated to adult books, was being dismantled.
It came as a shock, since it was just five years ago and with much fanfare that the Collins division was established—and less than two years ago that president Steve Ross and publisher Bruce Nichols were brought in to turn the place into a competitive force in general non-fiction.
In a phone interview on Tuesday afternoon, Mr. Morrison explained to The Observer what the people running HarperCollins might have been thinking back then when they decided to pour millions of dollars into Collins' development.
"I think the idea was that HarperCollins was having year after year of record-breaking profits and doing a bang-up job," Mr. Morrison said. "We just wanted to expand and bring in the best editors and publishers out there to help us grow.
"This is really just about the downturn in the economy," he said, "and the fact that as a big corporation, we have to manage our expenses. You know, if the economy was booming, everyone would probably still have a job."
At this point, Harper's corporate spokeswoman, Erin Crum, who was listening over the speakerphone, chimed in.  
"Collins was opened in 2004," she said. "So, you know, it was a long time ago."
Ms. Crum's implication was understood: A lot has changed since then, and HarperCollins' new CEO, Brian Murray—who assumed his duties last summer—had to react to conditions decisively, even if it meant putting the puppy down before it had a chance to grow into its paws.
And so the great Collins adventure, which hit a milestone last fall when Mr. Ross's team celebrated the launch of their first full list with an impressive party in the back room of The Modern, draws to a close.
Among the editors affected are several who joined the company just last year during a hiring spree that saw Mr. Nichols interviewing candidates over breakfast, lunch and dinner and in the end growing his nonfiction team into a formidable juggernaut. According to numerous sources, editors who have been let go as part of Collins' dissolution are Nancy Miller and Serena Jones, who joined up early last year; Gillian Blake, who came over in March; and Caroline Sutton, who came on in April. Paul Olsewski, the publicity director for Collins, is also said to have been laid off, along with Rene Alegria, publisher of the Spanish language Rayo imprint.
"It's pretty somber," said one editor at 10 East 53rd Street Tuesday evening. "I think we're all just trying to figure out what's tomorrow. It's just getting through today and working on tomorrow."
One person for whom Tuesday's news might have been somewhat bittersweet is Jonathan Burnham, whose record as publisher of HarperCollins' flagship imprint has been marked by a number of expensive acquisitions that did not meet expectations. Several publishing executives who spoke on background yesterday wondered aloud why Mr. Burnham—who declined to comment—was staying on at the company while certain others, like William Morrow publisher Lisa Gallagher, had been asked to leave.
Mr. Morrison said Tuesday that the decision-making process had been complicated and comprehensive.
"This is really an economic story," he said. "Don't read anything else into it besides that."
lneyfakh@observer.com