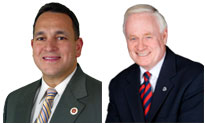 ALBANY—Here's one amusing consequence of the office shuffling going on in the Capitol and surrounding buildings: State Senators Marty Golden, Republican, and Hiram Monserrate, Democrat, are now temporarily sharing a conference room on the ninth floor of the Legislative Office Building.
"It's like Switzerland," said one Republican source, describing the room that lies between the office Monserrate is moving into and the one Golden is moving out of.
Monserrate, a former police officer, was sworn in recently after pleading not guilty to a felony assault charge. Golden, also a former police officer, proclaimed not long afterward that Monserrate should not be sworn as a State Senator before the matter was resolved.
Golden's office has been 946 LOB, which shares the common conference room with the room Monserrate has started moving –944. Since Golden is now in the minority, he's moving.
His replacement?
The reform-talking freshman State Senator Daniel Squadron.