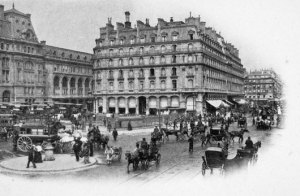 The Dynamite Club: How a Bombing in Fin-De-Siècle Paris Ignited the Age of Modern Terror
By John Merriman
Houghton Mifflin, 272 pages, $26
Long before suicide bombers were blowing people to bits in London, Sri Lanka, Israel and Iraq, extremists in Western Europe and North America displayed the same sort of callous disregard for the lives of civilians. Although this particular breed of terrorist avoided self-slaughter, they readily exploded deadly bombs in the nests of bourgeois society, blowing up crowded cafes or busy police stations, killing and maiming anonymous bystanders. Anarchists committed a rash of high-profile assassinations, killing prime ministers, emperors and even a president of the United States, William McKinley, who was shot dead in 1901 in Buffalo, N.Y. In The Dynamite Club, John Merriman, a professor of history at Yale, peers into the world of the violently discontented utopians of the late 19th century, shadowy murderers in the grip of extremist ideology.
Although Mr. Merriman takes in the whole sociopolitical climate of turn-of-the-century Europe along with the development of the anarchist movement, most of his work focuses on one man, Émile Henry, a diminutive and passionate Parisian who underwent a startling metamorphosis: A well-educated, middle-class overachiever, he became a bomb-wielding revolutionary who killed at least four people in two separate attacks. "This book," the author writes, "is motivated by a very simple question: why did Émile Henry do what he did?"
The legwork Mr. Merriman put into his research was surely extensive, and the book is the better for it. The Dynamite Club begins with a short overview of the forces that gave rise to the anarchist movement: rapid industrialization; poor working conditions; a sharp increase in urban population, particularly in working-class suburbs; and extensive political corruption, which in France's Third Republic included an embarrassing imbroglio involving the president's son and the Panama Canal. This preamble is interesting and informative but reads a bit like boilerplate.
The Dynamite Club's best flourishes come when Mr. Merriman delves into the complicated personal life of his representative terrorist. Émile Henry was born into a middle-class family; his father was a relatively famous socialist and an important figure in the Paris Commune. Born in exile in Barcelona, Émile returned to France and so excelled in school that he was granted an interview at one of France's prestigious grandes écoles. He failed the interview and moved to Venice to work for an uncle.
After only a short time abroad, Émile returned to Paris and moved in with his older brother, dabbled in spiritualism and socialism, and suffered through an abortive, unrequited love affair. Eventually, he came to embrace the most radical tenets of anarchism, including the virtues of the "propaganda by the deed" and a complete disregard for the safety of civilians. "Émile Henry could not help but soak up the charged atmosphere of fin-de-siècle Paris. The plight of ordinary people was growing ever more serious. Someone would have to carry the mantle of visionaries like Proudhon and Bakunin," Mr. Merriman writes.
Of course, the anarchist movement was an abject failure. Aside from high-profile assassinations and random bombings, the movement did not bring about a single meaningful reform. Émile Henry was caught immediately after his second attack and executed by guillotine. (How else?) His legacy was quickly forgotten although he did enjoy a spell of posthumous notoriety—martyrdom à la Che Guevara.
The "propaganda by the deed" movement fizzled and was eventually replaced by socialism and unionization, which together accomplished what the anarchists never could: the transformation of society. Toward the end of the book, Mr. Merriman aptly sums up Émile's star-crossed career: "In his own way, Émile could be described as a nineteenth-century Hamlet. He took arms against the sea of troubles devastating much of humanity, seeking to bring an end to them with his bombs."
Oliver Haydock is a reporter and the research editor at The Observer. He can be reached a ohaydock@observer.com.