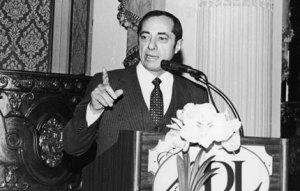 Attorney General Andrew Cuomo wants to reinvent New York government.
And maybe take it over.
His speech today, at a breakfast in the Regency Hotel hosted by the Citizens Budget Commission, was about his proposal to consolidate the state's more than 10,000 local government bodies and taxing authorities. Cuomo has said, with reason, that they are the cause of higher taxes and a less efficient government.
But intermingled in Cuomo's pitch for this most technocratic of ideas, there was stirring rhetoric—of a sort easily recognizable to anyone who was around for his run for governor in 2002—about returning competence to Albany, and of making the Empire State great again.
"We talk about the dysfunction in Albany, and it's true," he said.
But the conversation about the dysfunction in Albany is, he said, too limited, usually restricted to "ethical dysfunction and campaign finance."
"That's a starting point," he said. "There's a second concept, called competence. Called performance. And I want to introduce the topic of operational reform."
The push for much-needed structural reform comes at a particularly opportune time for Cuomo — he is riding a surge of positive publicity for giving voice to public outrage over Wall Street bonuses.
And, it should be lost on no one, it happens to come at a particularly bad time for Governor David Paterson.
Two days earlier, both the New York Post and Daily News ran stories about Paterson's staff spiraling out of control and being "rudderless." Paterson, who hasn't recovered from his messy handling of the Senate selection process, is also taking criticism from all sides for his unclear negotiating position on whether to tax high-income earners in order to plug the largest budget gap in state history.
Cuomo's pitch for the plan doesn't mention Paterson by name, of course, and its application is far-reaching enough that it isn't contingent on this particular governor being in charge. But the message—that New York's government is broken and needs to be fixed—is not one typically delivered by an officeholder, and a member of the party that runs everything in the state, seeking to bolster confidence in that party's leading official.
"We have to do it and I believe we can do it," said Cuomo at his breakfast. "This state government was one of the greatest state governments in the nation. You look at the history, you look at the legacy. It was the most progressive, the most competent, the highest level of performance."
Cuomo said even during his eight years working in the Clinton administration, people always asked him, "What are you doing in New York about this?" That is because, he said, "People looked to us. We showed them. That's what they meant by the Empire State. Excelsior. Ever upwards. Don't give up. Don't give up on state government, don't give up on Albany, don't give up on the legislature, don't give up on the process."
Government, though, has recently failed. "Your portfolio is down, your 401(k) is down, your I.R.A. is down, and government's response is, 'I'm going to raise your property taxes, I may raise your state income tax and I just added the federal debt with the buyout for the stimulus, the stimulus on Wall Street.' That equation," Cuomo said, is "not going to work for them."
After the speech, a reporter asked Cuomo why he was proposing this legislation to consolidate government.
"What does this have to do with law enforcement?" asked the reporter. "It's a legislative function."
"It's a legislative function," he said. "It's a gubernatorial function. It's an attorney general function. It's also a citizen function. You can propose a law. You can do that. I run the department of law. This is a law. I'm proposing a law. I'm proposing the law because I believe the current law is flawed."
Later that day at 1 Police Plaza, Cuomo appeared with New York City Police Commissioner Ray Kelly, announcing the arrest of 12 people who were running a "criminal enterprise" that stole expensive cars and construction equipment.
The overall message at the event, as delivered by Cuomo, was that "even though the economy is slowing, this city is going to be as safe and attractive and hospitable as it ever was." In a scrum with reporters afterward, he said, "I have no plans to run for anything except, if I'm crazy enough, re-election for attorney general."
Is he ruling out a run for governor, a television reporter asked.
"Well," Cuomo said, smiling. "Maybe the people won't want me and I'll have a different issue."