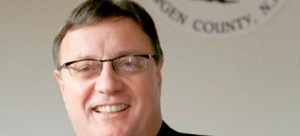 The Election Law Enforcement Commission is investigating Republican gubernatorial candidate Steve Lonegan's eligibility for public financing amidst speculation he did not report his connection to an anti-tax lobbying group to the state, according to an Associated Press report.
Candidates seeking public financing are required to disclose their role in issue advocacy groups to "avoid potential campaign conflicts, and to reveal their donors and expenditures if they've recently run such a group," the AP noted. There is no evidence that Lonegan was the manager of Americans for Prosperity, the group in question, or that any conflict really does exist.
Earlier this month, an AP story "raised questions about whether he is entitled to receive more than $550,000 in public matching funds for the campaign."
The probe will delay Lonegan's most recent submissions for matching funds.
Lonegan told the AP that he has supplied ELEC with W-2's and answered their questions about his post as the state director of Americans for Prosperity. Lonegan has maintained that he worked for their non-profit foundation and not for their lobbying group.