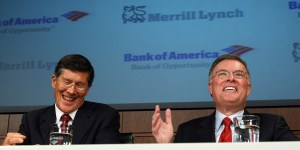 Shortly after Merrill Lynch was purchased by Bank of America, CEO John Thain was publicly demonized for requesting a $10 million bonus and spending $1.2 million on office renovations while his company faced a $15.3 billion loss in the fourth quarter.
It's both better and worse than the demon-hunters thought. According to the The New York Times, Mr. Thain's $10 million bonus request was a comedown from $40 million initially proposed on his behalf.
From the article:
Several weeks after that agreement was struck, a top deputy to Mr. [Kenneth] Lewis met with Mr. Thain and asked him to lower the bonus pool below $3.5 billion and to increase the portion paid in cash. Mr. Thain agreed to do so, according to two people familiar with the meeting.
Mr. Thain, meanwhile, lobbied for a bonus of his own until December, according to people familiar with his board discussions. The initial $40 million suggestion floated on his behalf was no longer viable and Mr. Thain himself suggested a figure of $5 million to $10 million. After that number was pilloried in public, he formally asked the board to award him nothing.
Not that that helped: After being fired by Bank of America's Mr. Lewis, Mr. Thain told at least two people, according to the article, "I don't know how these people can run this company without me."
His coworkers apparently did not agree: "Spontaneous applause broke out across the trading floor" when Mr. Thain's departure was announced.
Mr. Thain's preoccupation with good PR is perhaps the reason that it has taken this long for some of this information to come out.  When he first arrived at Merrill, Mr. Thain hired Margaret D. Tutwiler, who worked for Republican administrations in Washington, as his flack. 
According to anonymous sources at the company:
Ms. Tutwiler quickly scheduled a series of interviews for Mr. Thain from Merrill's trading floor. As the cameras flashed, he shook hands with the troops. When the cameras left, so did Mr. Thain
"He went on a series of speeches all over the world. He was being called a hero. The press was incredible," remarked one Merrill Lynch executive. "What was not happening was that he was not meeting with Merrill people."
But now, with no communications expert to shield him from the oncoming negative press, Mr. Thain is looking more and more like the decidedly less press-savvy Lehman Brothers CEO Dick Fuld.