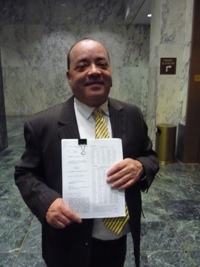 ALBANY—Here it is: a working bill using the Ravitch Commission recommendations to prevent the M.T.A. from enacting a doomsday budget.
State Senator Martin Malavé Dilan said he was given the bill by the governor's office, and it's set to be introduced later this week. It comes after both senators and assembly members met with M.T.A. officials today to discuss ways to bridge a $1.2 billion shortfall.
I caught Dilan, chairman of his chamber's Transportation Committee, on the way to his office last night and asked him what his position is on tolling the East River bridges, which, along with a smaller fare hike and region-wide payroll tax, were steps recommended by Richard Ravitch and endorsed by David Paterson. Dilan told me several weeks ago his "inclination was to be opposed" before public hearings on the subject.
"I'm in support of all aspects of the Ravitch plan," Dilan said, although he then went on to name a few caveats. "If everything that the M.T.A. and Ravitch has committed to—that goes back to holding down the fare increase to the bare minimum 8 percent, no service cuts at all, no layoffs, and they do the most service for the underserved areas."
Other state senators came out against the bill, including Carl Kruger and Ruben Diaz Sr. (who told me "nooooooooo" two weeks ago when I asked if he would support tolling bridges). Despite Dilan's softening, Senate sources and reports say the tolls remain a major sticking point.
The Assembly majority conference discussed the issue into Wednesday evening, with Speaker Sheldon Silver laying out the four options on the table: service cuts, fare hikes, a payroll tax and bridge tolls. Silver told The Times that tolls are "the only game in town."
But there is far from consensus in the Assembly; one member described the conversations as "frustrating."
"The opposition broke down more or less regionally," said another assembly member. "But I didn't hear anyone say they wanted to let fares go up. That seemed to be the key."
Dilan said his chamber hopes to move a bill by the end of next week.