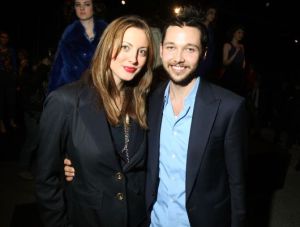 Twenty-six-year-old Chris Benz is among the designers who scaled back to a "presentation" this Fashion Week (after staging his first runway show in September 2008). But restraint was not otherwise in evidence Monday evening at the West Chelsea industrial space where 36 models in colorful cashmere, silk chiffon ruffles, sheared mink, and, in one instance, electric red foiled leather, slouched on black platforms throughout the room.
"I like the party atmosphere," said Mr. Benz, proclaiming himself relieved to be presenting rather than showing. "Last season I was trapped backstage the whole time which I did not like."
He described his inspiration for the new collection as "sort of like the last time that New York was in an economic flux, and a nostalgia for that moment of going out all night and big clubs… late '70s, early '80s, and everything that goes along with that."
There was loud, thumping post-disco music and free champagne and FIJI water, and people seemed to be enjoying themselves, even those whose work situations had, er, changed (spotted were deposed Voice columnist Lynn Yaeger, now blogging for New York magazine, and Lauren Goodman, fashion editor of the newly defunct Domino).
"What else do people want to do when they want to forget about something but go out and dance all night and be free, you know?" said the slight, pulchritudinous Mr. Benz, who wore a sedate blue blazer and sculptural hairdo.
His models rose like brightly colored beacons in the center of the dark room, their outfits slouchy and vaguely granny-chic-loud floral prints paired with floor-length brown sequins, leopard print pea coats, fusty hair intentionally mussed. "It's sort of about the uptown lady escaping to downtown and throwing on her fur coat and hitting the pavement, and the prints kind of reflect that," said Mr. Benz.
Nearby, his good friend, actress Eva Amurri, daughter of actress Susan Sarandon, wore red lipstick and a blue Chris Benz pantsuit with gold buttons and proclaimed the collection "my favorite so far. I want every single piece."
She was partial to "an amazing black fur jacket that's to die for" on a platform across the room. "It's nice to have color and energy in a recession."
"I think it's super-elegant and chic but at the same time the clothes-I know because I've, like, tried a lot of them on-are so comfortable and easy to wear," she continued. "I've worn his stuff to black tie events and I've also worn it to hang out on his stoop and have an ice coffee."
Ms. Amurri's mother had even worn Chris Benz for the entire press junket for Middle of Nowhere, a 2008 film in which the mother-daughter duo co-starred.
The younger woman demurred when asked if this Fashion Week was in fact a more sedate affair than in seasons past. "To be honest with you, I don't do a lot of Fashion Week. I do Chris and that's pretty much it. Usually it's too crazy for me, so I wouldn't know."