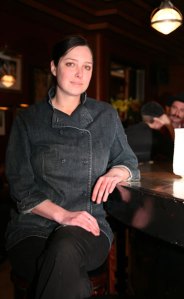 If you were to walk into Employees Only, the four-year-old West Village bar-slash-restaurant on Hudson at West 10th, around 8 or 9 on any given night, you might be inclined to turn on your heels and walk right back out. Twenty-something bankerish guys who you'd expect to be out of work, or at least exercising thrift, content themselves with pricey artisan cocktails and conversation with skinny girls with blowouts, cooing in European-ish accents. Older, tight-pantsed dudes hold court at the bar over more skinny, glossy-tressed ladies, and a fireplace keeps things toasty enough for those ladies to wear halter tops even in the dead of winter. It's back to back, wall to wall: a genuine, bona fide scene.
It might be too much to bear if it weren't for the oasis at the end of the throngs: a few steps up and back, a cozy, dimly lit space where some of the most inventive and delicious food in the city is being served.
This is thanks to head chef Julia Jaksic, 30, who took over the Employees Only kitchen just under two years ago. Her carefully tailored menu—stocked with game, lamb, oysters, the most gnarly and sublime steak tartare (truffled capers!) in town and a massive rib-eye steak that arrives on its own cutting board—manages both to match the decadence of the crafted drinks (often mixed by one of the mustachioed/bearded/saloony-looking owners) and impart subtle Eastern European twists to bistro favorites. A skate wing is served with "spaetzle paprikacz." The charcuterie appetizer platter is "Serbian." The cucumber and radish salad comes with a caraway cracker—caraway being one of the spices Ms. Jaksic associated with the cooking she grew up with, thanks to her paternal grandmother, who was Croatian.
"With my grandmother—everything was fresh," said Ms. Jaksic, sitting in the bar area of Employees Only on a recent Wednesday afternoon. She is tall, raven-haired, blue-eyed and pearly-toothed, and has an easy, unpretentious manner that betrays her deep Midwestern roots. "She had a pantry off her kitchen, with gallons of blood from when they made blood sausage. All these things that are complete horrors to other people, I'm like, 'Oh, blood!'"
Her grandmother and her dad, who owned a butcher shop in Milwaukee, are both responsible for Ms. Jaksic's deep, passionate love of meat, especially game. Currently, there's elk on her menu, and one might find rabbit, venison or Heritage pork, depending on the time of year. Her first job was working in her dad's shop, sewing pigs onto spits for the pig roasts he was often hired to cater. Ms. Jaksic was surrounded by food, though she never expected to make a life of it. "I never thought I was going to be a cook," she said, "and in fact my dad discouraged it."
Fortunately, her better senses won out. At 19, after leaving Milwaukee for Chicago and a brief flirtation with the first Internet gold rush, she enrolled at Le Cordon Bleu, which had just opened a branch there. After various cooking gigs, Ms. Jaksic decided to come to New York … though not to become a chef.
"The funny thing is, when I was in school, I never wanted to work in a restaurant," she said. But within her first week in the city, she'd snagged a line-cook position in the kitchen at the Soho Grand, where she worked until late 2004. The job also allowed her to dabble in food styling on the side.
A few months later, a friend mentioned that some friends were opening a place in the West Village, and were hiring for the kitchen. "At first I was like, 'No way, I am not going back into restaurants.' And then the first time I met them I was like, 'Oh, God, I have to work here,'" Ms. Jaksic said.
It seemed as if Ms. Jaksic, with her Croatian heritage, was the missing puzzle piece to the Employees Only map of Eastern Europe: The co-owners together represented Bosnia, Greece, Serbia and Albania. "The minute we met her, we knew she was the best choice for sous-chef," said co-owner Jason Kosmas (Greece). "I felt that even back then what she brought to the table was a certain style and class to the way that she likes to present food."
Fast-forward two years, very few days off and a new opportunity to open a Croatian lunch cart, Smith and Mills, and Ms. Jaksic took some time away off from Employees Only. A year later, though, she was back, as head chef. Within two months, she'd futzed enough with the menu to feel that it bore her stamp.
"When I came, the owners said, 'We need food that people can eat and soak up our drinks with,'" said Ms. Jaksic. "There's all these little philosophies that come along with this place that I've put into the food—like we don't have Diet Coke, we don't have Sweet 'n' Low, we don't have Red Bull, decaf coffee. … There's a mentality of things as they are. … When you come here, you aren't thinking about where you're going to be tomorrow, or how many cocktails you're drinking; it's just pure enjoyment."
hfrey@observer.com