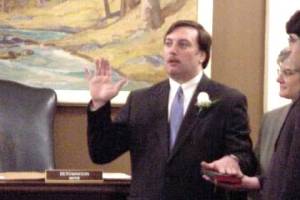 Democratic gubernatorial candidate Carl Bergmanson says he will welcome the reduction or elimination of New Jersey's property tax rebates as long as the sales tax we dropped back to 6%.
"Let's face it – The Property Tax Rebates are nothing more than a thinly-disguised vote-buying scam" said Bergmanson, the former Mayor of Glen Ridge. "If the Governor wants to eliminate them, I would support that, so long as the sales-tax increase that was used to fund them is also eliminated. Dropping the sales tax would be a great way to stimulate New Jersey's economy – just like increasing the sales tax was a great way to wreck it. But since this proposal by the Governor keeps the sales tax increase and just eliminates the rebates, that's nothing but a $1.7 Billion tax increase."
"It should be clear to anyone that increasing taxes, especially in our current fiscal environment, is like trying to put out a fire with gasoline," Bergmanson said. "We need to cut State Spending, not Taxpayer Spending. With his almost non-stop bungling of New Jersey's finances, Jon Corzine makes it painfully clear to the taxpayers of New Jersey why he was run out of Goldman-Sachs, and why they need to run him out of the Governor's Mansion."
Bergmanson is Gov. Jon Corzine's only announced challenger in the Democratic primary.