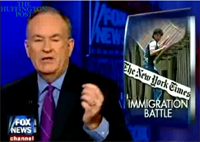 Don't assume Bill O'Reilly is hoping The New York Times' fortunes change any time soon. The Huffington Post's Media Vertical points us towards a commentary the Fox News host made about the paper last night in response to a February 1st editorial The Times ran under the headline The Nativists Are Restless, which, according to Mr. O'Reilly, was "a vicious piece of propaganda."
In the four-plus minute segment (with a cameo by Senator John McCain!), Mr. O'Reilly singled out Times Editorial Page editor Andrew Rosenthal, calling him "a dishonest loon" and a "radical." Mr. O'Reilly's also referred to Mr. Rosenthal as "a dishonest far left zealot who uses hateful tactics."
Well, actually, Mr. O'Reilly used those words to illustrate how easy it would be to exploit Google to permanently attach certain words to Mr. Rosenthal's name, much as he complained that The Times did, connecting him with racist views on immigration. Mr. O'Reilly said if Mr. Rosenthal didn't know how that works, "He's stupid. If he does know it, he's dishonest and purposely misleading Times readers."
Hey, at least Mr. O'Reilly somehow managed to pronounce Mr. Rosenthal's name with slightly less contempt than when he addressed The New Yorker's Hendrik Hertzberg in December. And when he flashed a picture of the editor on the screen, no one photoshopped it to make him look like a circus freak.
It truly is a new era for the network.