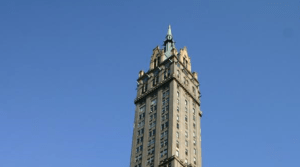 Once it was mildly annoying, or at least completely boring, to hear that a Fifth Avenue co-op had passed from a recently deceased septuagenarian business tycoon to a slightly younger septuagenarian business tycoon. But now, considering how icy and morose the real estate market is, it's a reason to rejoice.
According to city records, the estate of the late Gerald Tsai Jr., a "swift and nimble" mutual funds genius–turned–insurance executive, has sold his apartment at the Sherry Netherland for $3 million. The co-op was bought in the name of a trust that belongs to Ann and Charles B. Johnson, who, of course, is another mutual funds kingpin. The stock market's fall has been hard on his firm, Franklin Resources, but despite losing billions he's still the 74th-richest man in America.
And he can take comfort in knowing his $3 million purchase price was a full $1.1 million less than the co-op's original asking price.
According to a source, Mr. Johnson already owns a Sherry apartment next door to his new place, which means he'll be adding two bedrooms, two fireplaces, two walk-in closets and a 23-foot-long living room to his sprawl. It's just like the good old days!