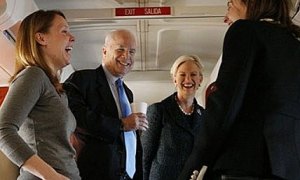 In a move to boost his credibility with Republicans, Michael Bloomberg has hired former McCain campaign spokesman Jill Hazelbaker to work on his reelection bid.
The hire comes in the run-up to Bloomberg's February 25 meeting with the city's Republican county chairs, who will decide whether to allow him to run in their primary.
(Asked by Azi at a press conference today about the fact that he still hasn't guaranteed himself a spot on the Republican line — or any other, for that matter — Bloomberg offered a terse non-response: "I don't know who you're addressing the question to. I'm not running the campaign. If you're talking about my election, you'll have to talk to the campaign.")
Bloomberg has already hired a string of Democratic operatives to work on his reelection including Hank Sheinkopf, who worked with Bill Thompson, and Basil Smikle, who was working on Anthony Weiner's campaign up until recently.
Bloomberg aide (and former Clinton campaign spokesman) Howard Wolfson sent out the announcement about Hazelbaker in an email, which includes a quote from John McCain:
Jill Hazelbaker most recently served as the National Communications Director for Senator John McCain's presidential campaign, from McCain's come-from-behind primary victory through the general election. Prior to joining the McCain campaign, Hazelbaker served as Communications Director for Tom Kean Jr.'s bid for U.S. Senate from New Jersey. Before the Kean campaign, Hazelbaker was an Associate with Mercury Public Affairs based in New York City.

"Jill brings to the table a skill set that is valuable to any campaign and Mayor Bloomberg is fortunate to have her onboard. I wish him and the campaign all the best," said U.S. Senator John McCain.

"Mayor Bloomberg is a pragmatic leader who gets results and it's a privilege to join his campaign," said Hazelbaker.

"Jill is one of the most talented communications professionals in the country. We are lucky to have her aboard," said Howard Wolfson.