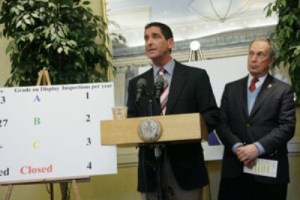 ALBANY—Here's a photo of Michael Bloomberg with Jeff Klein, the Bronx state senator who became deputy majority leader after Democrats took control of the chamber.
Bloomberg, a former Republican, angered many Democrats — including Klein — by appearing with Republican candidate Serf Maltese during the campaign. Klein even told Liz in March that Bloomberg "has made his proverbial bed, and he's going to continue to sleep in it."
Is the bed now unmade? The two were all smiles appearing at a press conference where Bloomberg announced the city would require restaurants to post a letter grade with their health department inspection rating, a bill Klein has pushed in Albany for years.
This is the first public appearance the mayor has made with any Senate Democrat, a source in the conference said. It could mark the beginning of Bloomberg's amends-making process in preparation for his re-election bid.