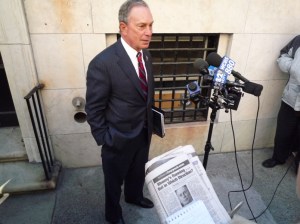 Michael Bloomberg met with the five county Republican leaders this morning to seek approval to run in their party's primary, then left after a brief exchange with reporters.
That job was, for the most part, left to Bloomberg campaign spokesman Howard Wolfson, who said that although the mayor would like to run on the Republican line, his administration would continue to "govern" in a nonpartisan manner.
Here's what the mayor said before he left: "It was a nice meeting. These are five county leaders and we talked about the economy, the economy of the country, the economy of New York City in particular. We talked about elections and politics obviously, and I said the last two times I ran, I ran on the Republican line and I'd be honored to run again. We'll see what they decide to do. But it was a nice meeting, a constructive meeting and most of the politics we discussed were not actually politics of New York City. We just talked about national politics and how we all hope that President Obama will be a good president, and this is not a partisan thing on a national level. We have a new president and it's time for everyone to pull together and that's what we're going to do."
Then, pointing to me, he said, "And you got a haircut."
Then he excused himself, saying that he was late for a meeting.
Since Bloomberg is not a member of any party–he dropped his Republican registration around the time top aide Kevin Sheekey was pumping up speculation about a presidential run–he will need approval from three of five county leaders to make it onto a primary ballot.
Bloomberg's meeting with the chairmen at the Metropolitan Republican Club on East 83rd Street lasted more than an hour.
He had walked in with a gaggle of aides including Republicans Matt Mahoney and John Haggerty. Haggerty worked on Bloomberg's 2005 campaign when the Queens Republicans were split between Bloomberg and a former Republican city councilman Tom Ognibene. Haggerty has also waged an intense war with the
leadership of the Queens Republican Party, which is now led by Phil Ragusa. Ragusa has said he'd back the mayor if Bloomberg rejoined the Republican Party.
While waiting with reporters on the sidewalk, Wolfson was chided for uncharacteristically wearing a tie. More than once, reporters joked to Wolfson that the meeting was taking too long, with one TV reporter asking Wolfson, "How long does it take to write a check?"
Reporters laughed and Wolfson grinned before saying that "it takes a long time" to talk about the mayor's record of accomplishments.
UPDATE: We're currently in the building waiting to here directly from the chairmen.