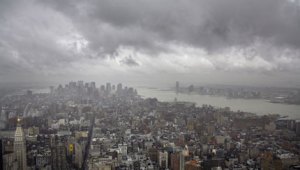 Climate change "poses real and significant risks" to New York City, according to a new report released today by the mayor's office; it says sea levels could rise "41 to 55 inches by the 2080s."
Bloomberg announced the findings this morning at a (smelly!) water treatment plant in the Rockaways. 
"Planning for climate change today is less expensive than rebuilding an entire network after a catastrophe," Bloomberg said in a public statement released along with an executive summary of the report, conducted by the city's Panel on Climate Change.
Other key findings from the report's executive summary include the forecast of more frequent and extreme heat waves, and a prediction of inland flooding as a result of "intense precipitation events."