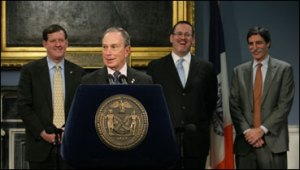 Mayor Bloomberg has tapped a former deputy commissioner for the city's top housing job, as he announced this morning that Rafael Cestero will be the new commissioner of the Department of Housing Preservation and Development.
Mr. Cestero, who left the city for the nonprofit Enterprise in 2007, takes the spot recently left vacant by Shaun Donovan, who became President Obama's HUD secretary.
Formerly the deputy commissioner for development, Mr. Cestero had a large hand in crafting and managing the city's ambitious affordable housing plan.
Many tools within that plan, however, were aimed to leverage a strong market to create tens of thousands of units of below-market-rate housing. Now many of the plan's tools and programs have been paralyzed or weakened, leaving Mr. Cestero with a partially completed plan that faces major challenges.
The use of inclusionary housing, for instance, has slowed dramatically as it relies on developers building in newly rezoned areas; the Federal Low Income Housing Tax Credit, used for numerous programs citywide, has been paralyzed by the economic crisis, delivering far less subsidy to affordable housing developers; and the city's budget office, which frequently sparred with Mr. Donovan over using capital money for his housing plan, has cut the size of the city's capital plan by 30 percent after effectively cutting it last year by 20 percent, putting direct government subsidy in shorter supply.
Mr. Cestero, appearing alongside Mayor Bloomberg this morning, acknowledged that change would be needed, saying officials would have to "roll up our sleeves and think about new ways to get it done."
Mayor Bloomberg repeated his commitment to his 10-year housing plan to create and preserve 165,000 units citywide, which has been stretched out by a year.
With counsel from Mr. Donovan, city officials honed in on Mr. Cestero weeks ago, though the announcement did not come until this morning. Also at today's announcement, Mr. Bloomberg indicated he was opposed to the repeal of the Urstadt Law, which would give the city, not Albany, control over much of its housing regulation policy. As Azi Paybarah notes at PolitickerNY, that stance puts him at odds with Assembly Speaker Sheldon Silver and Council Speaker Christine Quinn.