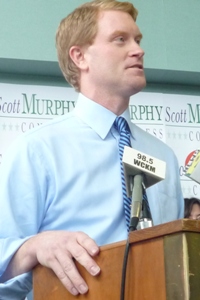 GLENS FALLS—After kicking off his campaign in its new headquarters, Scott Murphy spoke for three minutes to reporters before turning his attention to guests in the room.
He was, of course, asked about his position on the federal stimulus bill now before Congress.
"I'll take a look at it—I haven't been able to see it yet," Murphy said. "We're going to be coming out with a lot of specific information over the next few days. We absolutely need to do something to stimulate our economy."
When pressed to specify whether he would vote for or against, Murphy referred to his previous comments, and added:
"I think that we need to do a number of things with respect to the stimulus package. We need to make sure that we get our fair share in upstate New York, so that we can hold the line on our taxes, on our property taxes and local taxes. We need to make sure that they're creating jobs immediately by investing in infrastructure. We need to make sure that the plan is actually going to create jobs, and most importantly, we need to make sure that when the stimulus package goes through, we hold the politicians and the Wall Street types accountable for what they did, because what happened with the bailout was a disaster. We allowed common sense to go right out the window."
The spokesman for Murphy's Republican opponent, Assembly Minority Leader Jim Tedisco, emailed this statement after I asked how Tedisco would vote:
"Jim is not a Member of Congress, but here are his priorities and principles for a responsible federal stimulus package: more oversight and increased transparency, making sure the stimulus aid goes in a straight line, from Washington to Upstate, and providing real tax relief to help overtaxed, overburdened middle class families and small businesses get on the road to recovery."