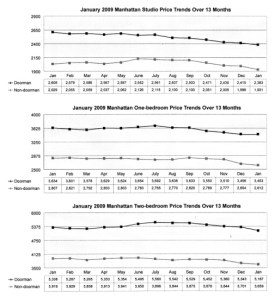 Well, so much for the seasonal peaks and valleys in the real estate market. According to the Real Estate Group New York's January Manhattan rental market report (PDF), released today, month-to-month average rents fell for studios, one-bedroom apartments and two-bedroom apartments, in both doorman and non-doorman buildings. It was a clean sweep, and one that bucked the usual seasonal upward trend of rents from December to January.
Here are the grim rent numbers for landlords.
Doorman studios: $2,415 in December; $2,383 in January
Non-doorman studios: $1,996 in Decembers; $1,931 in January
Doorman one-bedroom: $3,456 in December; $3,453 in January
Non-doorman one-bedroom: $2,654 in December; $2,612 in January
Doorman two-bedroom: $5,343 in December; $5,187 in January
Non-doorman two-bedroom: $3,701 in December; $3,659 in January
Shortly before Christmas, some real executives spoke to The Observer about the January pick-up, when renters (and buyers) traditionally get back in the game after taking the holidays off. Most analysts, like REGNY's COO Daniel Baum, quite presciently anticipated the malaise to continue into 2009, however. "I can't see a large amount of demand coming in January that will create a surge in the first quarter," Mr. Baum had said.
Across the board, rents are at their 12-month lows.