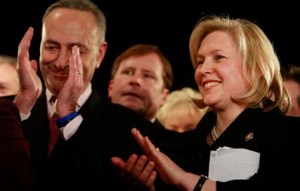 These may be austere, depressing times for New York's private sector. But for our public officials, it's a full-blown boom.
Hence the spectacle—in a week in which the mayor and the governor presented end-of-days budgets—of David Paterson fretting about the perils of coming into massive amounts of cash.
"Certainly in terms of the stimulus money, we're going to be very careful as to where it goes," Mr. Paterson said during an address to the Council on Foreign Relations on Feb. 2. "As a matter of fact the administration did not want to give block grants to the states because they weren't sure of what we would do with it. We don't have the best reputation for financial management."
 That's understating things somewhat. And with more than $10 billion in federal money about to shower down on New York to be applied to all manner of worthy projects, the state's elected officials are suddenly free to be economic populists, promising a chicken in every pot—or better school in a council member's district, or new subway line on the East Side, or bus lane on the Staten Island Expressway.
"I think the stimulus is methadone—it begins to wean you off the hard drugs but it still doesn't solve the hard problems," said Doug Muzzio, a political science professor at Baruch College, who does think the spending is necessary for an economic recovery. "No matter what's going to happen, it's going to feed their bad habits."
New York's elected officials are making sure they, and their constituents, get their fix.
On the morning of Feb. 3, Representative Carolyn Maloney held a press conference on a balcony overlooking the marble hall of Grand Central to announce a report conducted by her office detailing the economic benefits the Second Ave Subway and East Side Access tunnels to Long Island would have for the city.
"In the past, when we've had economic downturns, they have taken the money away from the Second Avenue Subway," said Ms. Maloney, whose district takes in the Upper East Side. "We're here to say that money has to stay in place and we have to move forward as quickly as possible"
Federal cash payments for the Second Avenue Subway would be sped up with the stimulus plan, with potentially more to come at the discretion of the M.T.A.
Given that far more is wanted to plug project budget holes than there are funds, there will indeed be competition for funds, though one project has already been, publicly, placed at the top of the list.  
On Jan. 28, Lee Sander, the M.T.A.'s executive director, surprised attendees at an Assembly hearing to say that the agency would commit $497 million of its stimulus funds to finish the $1.4 billion renovation of the Fulton Street subway hub, encased in a glass oculus, in Sheldon Silver's district.
After Mr. Sander announced the news, Assembly Speaker Sheldon Silver stood outside his downtown office and matter-of-factly told reporters that he pushed the Fulton project to the top of the stack.
"Initially, my understanding is, there was no submission for Fulton Transit," Mr. Silver said, referring to the list of stimulus-eligible projects New York sent to the Obama administration for approval. "I called the governor's office and complained about that, and it was put in."
On Feb. 2, Representative Jerry Nadler and Senator Chuck Schumer stood at the corner of Vanderbilt Avenue and 42nd Street outside Grand Central Station to herald the $3 billion Mr. Nadler had added onto the House stimulus bill for mass transit projects nationwide. Mr. Schumer intended to add another $6.5 billion to the bill in the Senate.  In remarks, the two officials made it clear that after critical maintenance projects for the subway system, the priorities for New York should be the Second Avenue Subway, the Long Island Rail Road's East Side Access tunnel, and new rail tunnels under the Hudson River.
After the event, held in front of half a dozen television cameras representing the city's major stations, Mr. Schumer—now one of the most powerful legislators in the country—suggested that he might have a say in where the money goes.
"We can set up oversight that it goes to certain criteria, it has to go for this, this, this and not this, this, this," Mr. Schumer told The Observer.
Presented with the fact that discretion over the spending belonged to the governor's office, he responded, "Traditionally, it is their decision. I want to make sure that it goes to the right types of projects, but I'm not going to pick: 'I think Second Avenue subway is more important than, say, East Side access.'" 
(He wants both.)
Mr. Nadler acknowledged that local political pressure would have an effect on where the federal money ended up going. 
"Well, I think that locally, you've got the major projects that I've mentioned," Mr. Nadler told The Observer. "There's tremendous pressure to do them—there's some pressure on Fulton Street, too, and I'm not sure what's going to happen. I have to assume that the bulk of the money will go to the major projects, which are the ARC tunnel, [under the Hudson River] the Second Avenue Subway, and East Side Access."
Asked if the money wouldn't get caught up in the usual political hassling, Mr. Nadler said the transportation projects were "not immune from that. But of course the public can press where it wants to, and again, I think that the bulk of the money will end up with those three projects that I keep mentioning."
Representative Michael McMahon and Borough President James Molinaro met on Feb. 3 to discuss how stimulus money could be used to repair the on and off ramps of the Staten Island Expressway.
Technically, the person actually supervising the disbursement of money for transit projects—such as the Second Avenue Subway, Fulton Street and the hundreds of millions in proposed repairs the M.T.A. has proposed—is a technocrat: Mr. Sander. The former transportation commissioner during the Giuliani administration now seems to be speaking at a construction industry event almost every day. As the stimulus-money windfall gets closer, he is also pushing for a transit rescue package in Albany, thus attracting executives from potential contractors, who pack in to hear him speak at events like the New York Building Congress luncheon last week at the Mandarin Oriental, or a Greater New York Construction User Council breakfast this week.
 But officials at all levels of New York government, naturally, want to have a say.
 "We have no money, so we need it from all corners," said Councilman Dan Garodnick, an East Side Democrat. "Where you have a lot of need and a potential infusion of dollars, there will be a scramble to sort out priorities."
The city's Department of Education, for instance, would likely get hundreds of millions of dollars to renovate schools, allowing the Bloomberg administration to ramp up its school construction plan. The city's public housing agency, the New York City Housing Authority, would likely get well over half a billion dollars for repairs and capital expenses, a cash infusion sure to spark interest among advocates and elected officials who have decried the lack of investment in NYCHA.
Meanwhile, the City Council is gearing up to create its own list of priority projects that should receive stimulus funding, said Councilman Thomas White Jr., who is chairing a hearing devoted to stimulus funds on Feb. 9. The Bloomberg administration has not publicly released agency lists of so-called "shovel ready" projects—a document city officials gave to the Congressional delegation says such lists will be prioritized and released once the stimulus has passed—so in its absence, Mr. White said the Council is taking its own action, going district by district to come up with priorities.
"We're going to come up with our lists that we will propose to the mayor and to our Congressional delegation of what our shovel-ready projects, so as to make sure that we get a fair share," Mr. White said. "We want to get the Council's voice out there too."
While there is no final bill out of Congress yet, the $900 billion or so in federal money would get disbursed between the state and local governments, separated into distinct pots for uses such as school modernization, or food stamps, each with their own set of restrictions.
On the New York level, one of the largest allocations of federal spending for capital and infrastructure projects would go to the M.T.A., which officials say is slated to get about $1.5 to $2 billion based on the House bill. At least $1 billion of that would be for projects of its own discretion, so long as they fit a set of criteria requiring a quick start to construction.  
A state list of potential M.T.A. projects that would qualify includes everything from the spectacular to the mundane, but with emphasis on maintenance, such as $46.9 million for PA systems at 43 stations; $2.3 million for "crack sealing" on state roads in New York City.
"No one disagrees that there's a tremendous need for mass transit capital funding," said Mr. Nadler. "And no one disagrees that we're going to have to do painful things, whether it's a payroll tax or tolling the East River bridges, or something. And this'll make it a little less—it's not going to be as if you've got plenty of money to throw around. … Nobody's going to assume we have money to throw around. I wish we did, but we don't."
That is the message that Mr. Paterson, who has final discretion over how much of the money is spent, is trying to impress upon his colleagues.
"How do you count money that isn't even there?" he told the crowd at the Council. "They haven't even passed the bill yet. It just shows the cognitive dissonance that seems to exist when trying to address these types of problems."