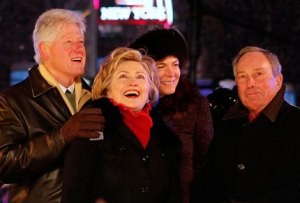 After getting a phone call from Rudy Giuliani yesterday, the Bronx Republican County Leader Jay Savino said he and the former mayor may have to "agree to disagree" about whether to allow Michael Bloomberg into their party's primary.
Savino later said he's keeping an "open mind" about whether to allow Bloomberg into the primary, but repeatedly expressed doubts.
The five Republican chairman are scheduled to meet Bloomberg tomorrow to discuss the possibility, which a majority of them would have to approve.
"It's not about his allegiance to the Republican Party," said Savino. "I don't know what Mayor Bloomberg stands for. Congestion pricing, tax increases, an out-of-control, ballooning budget. These are the issues we're concerned about."
He said, "Tomorrow's meeting is to get a sense of who the mayor is and what does he stand for."
Savino brushed aside the notion that Republicans need Bloomberg because he's been the party's largest contributor, and can help deliver resources to the few remaining city-based Republicans in elected office.
"Supporting the Senate majority but not adopting the issues that matter to the people I represent on a local level, one may negate the other," said Savino. He said Bloomberg's support of Republican elected officials may be nothing more than "a feather in the mayor's cap," and that it has yielded little in terms of favorable policies.
Savino also warned that allowing Bloomberg into the Republican primary could permanently taint the party's image.
"If we just sell ourselves to the highest bidder and do nothing, we doom ourselves to going after one person after another and stand for nothing," he said.
UPDATE: A reader notes that Bloomberg endorsed Savino during his 2006 race for State Senate. Here's a photo of the two of them.