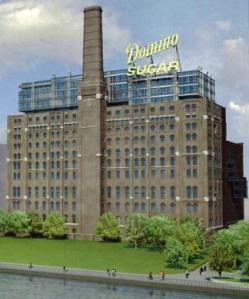 The old Domino Sugar plant has an icy spot on the Williamsburg waterfront, staring across lead-gray waters to the Manhattan shoreline. Since its contentious landmark battle concluded last summer, it's been in something of a freeze; the blog chatter has gone quiet.
But it's a false kind of chill. The debate over Community Preservation Corporation Resources' plan to turn the crumbling ex-factory into a 2,200-unit residential complex, with one building as high as 40 stories, is about to explode again, once the developer files its land use application with the city and enters public review. Meanwhile, CPC—usually happy to chat with reporters—has declined to comment for this story until the application is filed, which a representative of the developer said would be "soon."
"This is far from over," said Assemblyman Joe Lentol, who has pressed for the developer to open up its books to justify the project's height (CPC says it needs to build that tall to make up for decreased revenue on the project's 660 affordable units). "We have now an opportunity to negotiate. They may be able to see the light and redesign the project so that it's more amenable to the community."
Stephanie Eisenberg, whom The Observer profiled in October, is still pushing for her solution of turning the place into a Tate Modern-esque cultural center. Her group, the mysteriously named the Williamsburg Independent People, argued that building a boutique hotel, green technology exhibition facility, or space for private art collections would bring in more jobs and tourist money than another residential project (it may seem like a long shot at this point, but Mr. Lentol did say he'd be on board with such a radical redesign: "I'm not against any of those uses," he said last week).
More than anything else, advocates have raised concerns about the amount of transportation available to service tens of thousands of new residents—the nearby L train is already overcrowded, bus transit is thin, and the huge parking garages that the city requires for new condo projects are poised to create a traffic explosion. According to Transportation Alternatives, the area has a car ownership rate of only about 30 percent; the New Domino's planned 1,450 spaces allow for over 60 percent car ownership.
"I think that's completely unacceptable," said Michael Freedman-Schnapp of Neighbors Allied for Good Growth. "You're just encouraging people to own and drive cars. There needs to be a plan to expand bus service to this area, maybe year-round water taxis."
The project's set of circumstances carries with it a nasty dynamic: low-income units end up working as a kind of wedge, with historic preservationists and smart growth advocates bending over backward to avoid being characterized as anti-affordable housing.
"It's unfortunate that a lot of the dialogue on this has been so polarized. If you bring up any concerns about transportation or accessibility, you're against affordable housing," said Teresa Toro, who until recently chaired Community Board 1's transportation committee. "You're not necessarily making people's lives better just by providing affordable housing, because that's just one aspect of quality of life."
LOOMING OVER THE ENTIRE development, of course, is the resounding question: Can they actually pull it off?
According to its 2008 annual report, CPC Resources is underwritten by over 65 banks, plus a handful of insurance companies and pension funds. The list includes several of those in the news lately: Bank of America, Wachovia, Merrill Lynch, JP Morgan Chase, Citibank, Washington Mutual, Fannie Mae and Freddie Mac. In addition, any funding possibly sought through the 421-a tax abatement is more difficult to secure thanks to Bloomberg-backed changes in 2008.
The developers have resolutely assured journalists that the financing for the $1.2 to $1.3 billion project is "solid." But they've also declined to elaborate on where the money is coming from, or how they're going to escape the fate of dozens of other New York projects canned for lack of cash.
On a quick walk north along the Williamsburg waterfront, what could be the New Domino's future is painfully evident: Condo project after huge condo project, many of which have gone rental, all of which are well below sales projections. The soaring, glassy and ostentatiously green Edge project has only sold about a quarter of its units since going on the market in March, while prices for penthouses at neighboring Northside Piers were slashed nearly in half last week.
Local broker Robert Peguero of Bedford Realty sounded like he had witnessed a massacre of sorts as he spoke about how business has been lately: worse than any of his 28 years in the industry. But the New Domino, he said, just might make it.
"The Domino project has a history that goes with it," he said. "You want to identify with something historical like Domino."