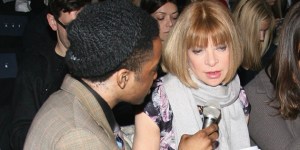 At this afternoon's Isaac Mizrahi show at the New York Public Library, the Daily Transom's seat several rows behind Anna Wintour allowed us to observe a now-familiar pattern: Ms. Wintour arrived within minutes of the designated start time—as she always does, despite the fact that the show would've held for her indefinitely—and made her way to a front-row seat, where she endured a blinding wall of flashbulbs, as she always does. Then she waited while other guests dithered or strolled in late or worked the room and greeted friends and associates like they hadn't seen them in months, even though Vera Wang had been mere hours before. A couple of brave reporters stuck tape recorders in Ms. Wintour's face, asking her to provide pithy quotes; she obliged. She chatted with Vogue editor Hamish Bowles, to her left. She waited 26 minutes in total (an average, even short wait).
When the lights went down, Mr. Mizrahi's colorful, whimsical collection streamed through purple velvet curtains. The models wore red lipstick, bedroom slippers and, most notably, a fashion innovation not appropriated from some 20th century decade (unless some friends of Marcel Duchamp did it without our noticing): handbags as hats! Ms. Wintour took it in from behind her sunglasses.
She will probably repeat this routine six or seven times today, not because she can't arrange private viewings, but because her presence, augmented by all those photographs and pithy quotes, supports these designers' businesses. When the Mizrahi show ended, to cheers, Ms. Wintour leapt up—as she always does—wrapped in her fur and guided by a bodyguard, and darted out of the room before she could get stuck in the slow-moving bottleneck amassing on the runway. One could hardly blame her.