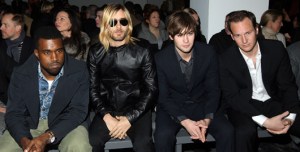 There we were, lurking the front row about 20 minutes before the start of the Calvin Klein men's show at CK Inc.'s West 39th Street headquarters on Sunday afternoon, when a storm of flashbulbs signaled what appeared to be the arrival of the first A-List celebrity. Um, is that Kurt Cobain?! the Daily Transom wondered for a split second, squinting its eyes in disbelief. Oh, never mind! It was just Jared Leto, with his shoulder-length hair bleached to a grungy dirty-blond and a face full of stubble that very much invoked Mr. Cobain's likeness. Mr. Leto was wearing aviator sunglasses and a tight black leather jacket.
Ten minutes later, up walked Kanye West, who chatted with Mr. Leto before taking the seat to his right. Then, who should sit down to Mr. Leto's left but Gossip Girl star Chace Crawford, who we'd last seen at the GQ men's wear event a few days earlier. Lastly, seated to Mr. Crawford's left was actor Patrick Wilson, perhaps best known for his role in the 2003 HBO miniseries Angels in America. Yes, the front-row bros of Calvin Klein were all present and accounted for. And so the show began.
It was something of a monumental event. The show was not only a celebration of the brand's 40th anniversary, but also the first time the men's collection had been shown in New York since Italo Zucchelli became creative director (and also its return stateside after 11 shows in Milan). To say the least, it was the men's wear pinnacle of Fashion Week.
Set to the music of West Side Story, ("Boy, boy, crazy boy / Get cool, boy / Got a rocket in your pocket"), the show lasted about 10 minutes, with highlights including some foamy, space-age looking ensembles apparently born of the same manufacturing technique as bike-seat fabric. Overall, the collection was slim and chic—lots of blacks, grays and charcoals.
On the way out, the Daily Transom bumped into Elle creative director and Stylista judge Joe Zee, who was wearing old-school brown Nikes, vintage Helmut Lang jeans and a blue V-neck sweater by Pringle monogrammed with his initials.
"I thought it was great!" he said of the show. "Very architectural, very modern and slightly futuristic. But there's also very wearable clothes in there."
And what about all those dark recession colors?
"It's a little, you know, somber for the times," he said. "But in the end, it's really investment dressing."