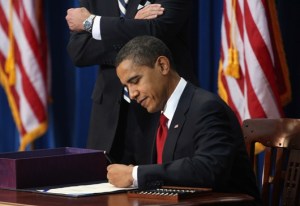 With the federal stimulus package signed, the Bloomberg administration has done some tallying. The total to be infused for city-run capital infrastructure projects, according to a City Hall memo issued today: $544 million.
Per the memo, that money comes from two separate pots—$311 million for water and sewer projects, which the city must apply for through the state, and $233 million for transportation projects.
Also coming to the city courtesy of the stimulus, though not included in that $544 million number, is an estimated $390 million for repairs and renovations for public housing at the New York City Housing Authority, $142 million for other housing programs, and $140 million for energy efficiency.
Unlike the state government and the M.T.A., the city has not yet released lists of projects that would qualify as "shovel ready" and would thereby be eligible to receive stimulus funding. The memo said such a list would be released in coming weeks, though some on the City Council have criticized the administration on the issue, alleging they have been intentionally left out of the process.
The new money comes as the Bloomberg administration has proposed a 30 percent cut in its five-year capital plan, which funds billions in infrastructure and economic development projects. That comes on top of a move last year to stretch out the plan from four years to five, effectively cutting spending by 20 percent.