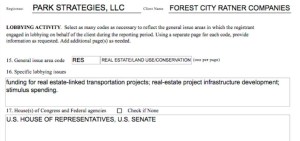 The government is pouring money into state coffers for infrastructure, and Bruce Ratner apparently has his hand out, hoping to get a slice of the $789 billion pie in an effort to save his troubled Atlantic Yards project.
Opponents of the project are livid about the mere fact that Mr. Ratner wants more public money; supporters of the project are cheering the effort. But is the massive Brooklyn project, planned home of a Nets basketball arena and over 6,000 apartments, eligible?
Thus far, with an accord on the stimulus legislation less than two days old, the public response from Albany is an unequivocal "we don't know yet."
The governor's office said as much Thursday afternoon, and soon thereafter, Governor Paterson (whose administration ultimately chooses how to divvy up much of the stimulus money) was more to the point.
Here's an exchange from a conference call yesterday afternoon with Senator Chuck Schumer and Mr. Paterson, relayed by PolitickerNY's Jimmy Vielkind, who was on the call:
Reporter: There's been a lot of chatter on the blogs about whether Atlantic Yards is a candidate for this infrastructure spending. Is it? Will it receive…
Mr. Schumer: I don't know enough details to answer that. Governor?
Mr. Paterson: I have no idea. I thought that Schumer knew.
Mr. Schumer: I thought you knew.
Mr. Ratner certainly could use the money. For months now, Forest City Ratner, the development firm of which Mr. Ratner is president, has been seeking ways to get more money from—or owe less to—various governmental bodies, at least temporarily, according to multiple people familiar with the situation.
Now, according to a federal disclosure report filed by former Senator Alfonse D'Amato's lobbying firm, Park Strategies, stimulus money is very much on Mr. Ratner's mind. The disclosure form, filed last month, lists Forest City Ratner–related lobbying issues as: "funding for real estate-linked transportation projects; real estate project infrastructure development; stimulus spending."
Given that the stimulus money for infrastructure is channeled into a handful of different pots, each with their own requirements, one would assume that if Atlantic Yards did qualify for stimulus funds, it would most likely be in transportation money. The project involves Forest City making a new rail yard for the Metropolitan Transportation Authority, along with some other transportation infrastructure-related improvements.
As of Thursday evening, there was no text released of the final bill (that I could find), so it's difficult to say whether or not any of the transportation work—which has been halted—would be eligible. The M.T.A. is poised to get over $1 billion in stimulus funds, which would have a variety of restrictions attached to it, most notably that contracts must be awarded within months of the bill's passage. The agency submitted a list of potentially eligible projects to the governor's office a few weeks back; Atlantic Yards wasn't on it then, but that list was not binding.
Should the project turn out to be eligible to get money, it would require a major political step by Mr. Paterson to allocate the relatively scarce stimulus money. The project has always been a political hornet's nest, and to date, neither Mr. Paterson nor his predecessor Eliot Spitzer have had to take any overt, highly public steps in support of it. Given that there are far more projects than there is stimulus funding, it's safe to say that money to Atlantic Yards would come at the expense of some other project in the area. If eligible, the question then becomes whether or not Bruce Ratner, Al D'Amato, supportive politicians and groups could push Atlantic Yards toward the top of the stack at the same time that other politicans are fighting for projects of their own favor.
As for a timeline on the question of stimulus eligibility? The governor's office said a prioritized list for the M.T.A.'s projects would likely be completed in the next few weeks.