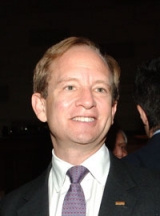 Back in October, The New York Daily News printed a story about media investor Steve Rattner's wife and her problem with booze and driving a car one night on the Throggs Neck Bridge. As Michael Wolff pointed out on Newser, the story mysteriously vanished from the News' Web site.
Well, it's happened again, leading us to wonder if this is just some weird coincidence. Or, possibly, Mr. Rattner has more juice than anyone in the city.
On Wendesday, The News printed a story in the first edition about Steve Rattner's connections with political consultant Hank Morris who is currently under investigation by the Attorney General's office. The story, once again, appears on Nexis. And once again, the story is nowhere to be found online.
A News spokesperson told us, "The story you are referring to was a first edition place holder before we used the space for the Obama speech," she said. "The Web normally would not pick up a story from a single edition."
"He had nothing to do with it," said a spokesman for Mr. Rattner.
When asked if two stories about Mr. Rattner disappearing might seem to be, at best, a bizarre coincidence, she said, "Honestly, it's one of those situations where the Web wouldn't pick up something from a single edition."
We also put in an interview request with Martin Dunn, the paper's editor, and we're waiting to hear back from him.
Here is the story that you can access on Nexis, but nowhere else from the News:
Daily News (New York)
February 25, 2009 Wednesday

METRO EDITION

BAM'S MAN LINKED TO HEVESI PAL

BYLINE: BY KENNETH LOVETT DAILY NEWS ALBANY BUREAU CHIEF

SECTION: NEWS; Pg. 9

LENGTH: 510 words

ALBANY – Manhattan moneyman Steve Rattner–President Obama's new auto industry bailout guru — has ties to a political consultant under state investigation, the Daily News has learned.

Rattner's investment firm, Quadrangle Group, won $150 million in state pension business in March 2005 with the help of Hank Morris, top political consultant to the state's disgraced ex-controller, Alan Hevesi, records obtained by The News show.

Attorney General Andrew Cuomo is investigating a possible pay-to-play scheme involving Morris and the controller's office during Hevesi's four-year tenure.

At least one Quadrangle representative is said to have testified before a grand jury hearing evidence in the case, a financial-sector source said.

Neither Rattner – a Quadrangle co-founder and former managing principal – nor anyone else at the firm is a target of the probe, a source said.

Still, a number of questions surround the deal, including how Quadrangle came to hire Morris and the little-known Connecticut-based financial firm that employed him, Searle & Co.

It's also unclear what Morris did for the money he and Searle got from Quadrangle.

Records show Quadrangle listed Searle & Co. and Boston-based Monument Group as its placement agents – middlemen who collect a commission for connecting investment firms and pension funds.

Monument Group associate Liz Hartigan said her firm worked closely with Quadrangle's management team, including Rattner, on the 2005 pension fund deal.

She said Monument Group has no idea who Morris is and also never heard of Searle & Co..

"We just dealt with the New York Common Retirement Fund as an agent for Quadrangle, but we did not have anything to do with Searle & Co. or Hank Morris," Hartigan said. "We don't know to what extent they were involved."

Morris, who quietly registered as a financial broker after Hevesi took office in 2003, is said by investigators to have received $25 million in fees over four years from an array of firms that he helped win business with the controller's office.

Investigators are proving whether investment companies were pressured into hiring Morris in order to get state pension money.

Hevesi resigned in 2006 for unrelated reasons.

It's unclear how much Morris received from Quadrangle.

Rattner, Morris and his lawyer did not return calls for comment. Quadrangle and Searle officials refused comment.

A powerhouse Democratic fund-raiser, Rattner resigned from the firm on Monday after Obama tapped him to serve as auto bailout counselor for the Treasury Department.

At one point, Rattner was expected to become Obama's car czar with full oversight over the industry. That appointment never happened, though he will have many of the responsibilities in his role as counselor.

He will also serve as an adviser on a variety of other economic and financial matters.

A U.S. Treasury spokesman had no comment.

The state pension fund has invested $100 million of the $150 million committed to Quadrangle. The return has been on par with comparable investments, the controller's office said. klovett@nydailynews.com